Drug Arrest At Justin Bieber's Mansion: Cops Reveal Cocaine Was 'In Plain View,' Leading To Lil Za Arrest -- Watch Their Press Conference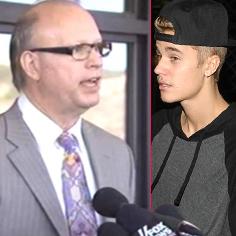 Authorities held a press conference to announce that an adult man was arrested or felony cocaine possession that was in "plain view" on Tuesday morning during the raid on Justin Bieber' house, but the singer was not arrested or taken in for questioning.
Los Angeles County Sheriff's Department Lt. David Thompson was mocked by reporters for the extreme measures taken by police for "eggs," and he defended the action to send "12 detectives in eight cars" to the "Baby" singer's Calabasas home following an incident where Bieber allegedly egged a neighbor's house.
Article continues below advertisement
"Somebody did get arrested unrelated to the reason," he explained, but did not name the rapper Lil Za, real name Xavier Smith, as the man who was arrested for felony drug possession.
"I believe it was cocaine," he said of the narcotic that was found and said that there were no drugs found on Bieber.
"The cocaine was in plain view of the deputies when they were looking for other evidence.
"He was not connected to that cocaine except that gentleman was staying at his residence." Lt. Thompson said.
He said that Bieber was cooperative during the raid, but his lawyer was no present so he did not answer "any questions at the time we were there. I believe he will do that through his attorney."
Thompson defended the use of multiple detectives to address an egg throwing claim, explaining: "I get that eggs don't seem that significant but there was a victim who suffered an extensive amount of damage."
MORE ON:
Celebrity Justice
Article continues below advertisement
He said the damage was approximately $20,000 and he "as well as the Sheriff's department take that seriously." He said they did remove security footage from Bieber's home and that the department videotaped the raid and justified the extensive law enforcement presence by saying "In these types of situations we don't know what we are going to confront."
When Lt. Thompson was questioned about a possible deportation for the Canadian singer he said all visa questions are "for the State Department."
Stay with RadarOnline.com for updates to the story.
youtube=https://www.youtube.com/watch?v=QEbMxv27GPU&w=560&h=315