Exclusive
Police Fail To Find ANY Illegal Drugs Belonging To Justin Bieber After House Raid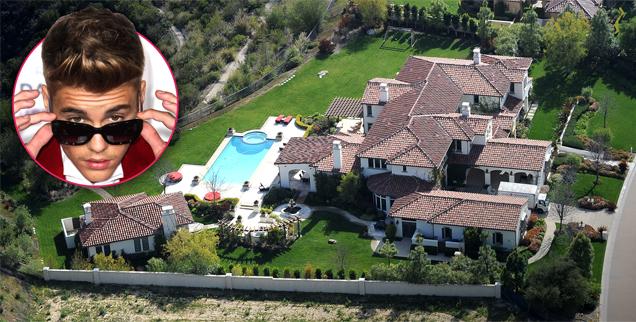 Justin Bieber is said to be "furious" after eleven police patrol cars arrived at the pop star's house Tuesday morning armed with a battering ram and search warrant as part of a felony vandalism investigation.
But the Los Angeles County Sheriff's Department failed to find any illegal drugs inside the 'As Long As You Love Me' hit maker's southern California mansion, a source told RadarOnline.com.
"No illegal drugs were found during a preliminary search of Justin's house," the insider, close to Bieber, revealed.
Article continues below advertisement
"He is obviously upset that cops basically had free reign and are going through his personal belongings in his house. Justin has been kept out of the house while the search warrant is being executed and is being watched over by several sheriff's deputies."
Police executed the warrant after the 19-year-old was accused of costing his neighbour $20,000 in damages.
It's alleged Bieber threw at least 20 eggs at a house in his gated community in Calabasas, Calif, last Thursday.
MORE ON:
Celebrity Justice
Video footage has been released in which the neighbour can be heard shouting, "I see you. I f**king see you!" before a boy, who is allegedly Bieber, responded, "F**k you! I got another one for you, actually!"
Cops were searching for searching for anything involved in the incident, such as physical evidence, recordings or egg residue.
If they were to uncover any illegal possessions, such as drugs, Bieber or his house guests could be on the hook for that, as well.
Said one Bieber source: "It's just over the top to send a dozen cop cars to someone's house because of someone allegedly throwing eggs from his property at his neighbor's house.
We're told police have even scheduled a press conference for 11:30 a.m. PST to update the media on what, if anything, they found.
"Justin respects the judicial system, but is this really the best use of the very limited resources of the sheriff's department?" questioned one pop star pal.