Segways & Seascapes: Inside Justin Bieber & Selena Gomez's Romantic Oceanside Getaway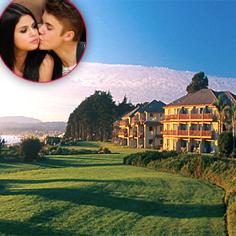 Apparently, Selena Gomez has a case of Bieber fever, and it's more serious than initially thought. After being spotted with her ex, Justin, on January 2, the couple went off on a secret getaway in Northern California this past weekend, according to local media in Santa Cruz.
Bieber arrived in the area on Sunday, Santa Cruz Deputy Chief of Police Steve Clark told the Santa Cruz Sentinel. And although the singer tweeted about being on a break with his father, Jeremy Bieber, locals spotted someone else tagging along.
Article continues below advertisement
According to Deputy Chief Clark, Bieber was spotted in nearby Aptos, California, on Monday night, with Gomez, who was wearing a blonde wig. When the couple realized they had been seen, "they ran inside the Seascape Beach Resort, with Gomez's wig falling off in the process," the paper reports.
Bieber was also spotted riding a Segway with a group of friends and hiking in the nearby Pogonip area, although Gomez couldn't be definitively identified at either outing, perhaps due to another disguise.
It's just the latest sighting of Gomez with her apparently on-again boyfriend since she announced she was canceling her international tour for "me time" on December 20.
Though some reports claimed she had done so because of complications she's suffered since allegedly being diagnosed with lupus, still others claimed that she was hoping to recover from her breakup with Bieber last year.
Do you think it's a good idea for the two to be spending time together? Let us know in the comments!