Exclusive
Justin Bieber & Selena Gomez Breakup: 'They Tried To Make It Work, It Just Isn't,' Says Pal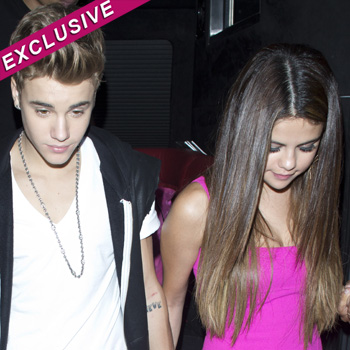 On-again-off-again item Justin Bieber andSelena Gomez rang in the New Year solo and a close pal exclusively tells RadarOnline.comthe couple breaking up was the result of pushing the relationship to work when it just wasn't.
"Justin and Selena were together for a long time. They love each other and will always care about each other, but it just isn't working between them," the pal told RadarOnline.com.
Article continues below advertisement
"This might really be it for the two of them. They're over going back and forth and all the fighting and reconciling. They're finally realizing that no matter how much they try to make it work, it won't right now."
As RadarOnline.com exclusively reported, after a brief breakup in November, Justin and Selena got back together and were spotted getting cozy in Salt Lake City, Utah, on a holiday vacation together.
But by the time the couple reached Mexico where they were going to welcome 2013 together, the strain on their relationship was too much and Selena flew back to Los Angeles without Justin before the New Year.
"Their time in Mexico was much of the same for them; constant arguments and bickering," the pal said.
"So they ended it. Selena is Justin's first love and he's still young enough that he desperately tries to make it work. But Selena is mature enough to just know when to end it and be realistic that it isn't working.
"And Selena didn't wallow in their breakup. She went out New Year's Eve and had fun with her friends and did her thing."
The source concludes that it's doubtful Justin and Selena will get back together this time, but if they do, it won't last.
"They're both better off to just move on and go their separate ways," the friend told RadarOnline.com.
"They're just having trouble saying goodbye."