Exclusive
The Reasons Behind Justin Bieber & Selena Gomez's Breakup: Models, Twitter & Exhaustion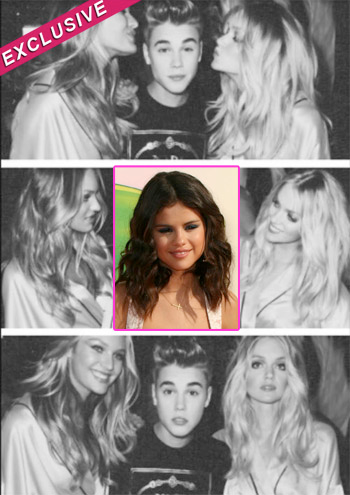 By Amber Goodhand - RadarOnline.com News Editor
Justin Bieber and Selena Gomez's breakup shocked fans, but pals close to the one-time couple saw it coming and exclusively tell RadarOnline.com that exhaustion, jealousy and a busy work schedule are to blame.
"I can tell you that right now the biggest debate over at Team Selena is whether or not she should unfollow Justin on Twitter," the source said.
"Both of them used Twitter to send vague messages to each other, but one of the last straws was when a photo of Justin surrounded by Victoria's Secret models was posted."
Article continues below advertisement
According to the pal, what started as a break between Justin and Selena turned into a full breakup when Selena discovered a mutual friend posted a photo of Justin with the models from the night before.
"Selena was pissed and immediately texted Justin, which caused the friend to delete the tweet," the insider revealed.
"But not before Selena retweeted the photo of Justin and the Victoria's Secret model with the caption '…' which she later deleted."
As RadarOnline.com first reported, Selena was trying to stick it out with Justin because "he's good for her brand," but now Justin's reputation is slowly changing and Selena is fine as a Disney sweetheart on her own.
"When they originally started dating, Justin was a boy entertaining young girls, and now he's a man surrounded by Victoria's Secret models…and Selena doesn't like that," the source said.
Article continues below advertisement
"But it looks good for Selena that Justin is already out on the prowl because it puts her in the position of being the victim in the split."
Finally, the source indicated that exhaustion, stress and distance didn't help Justin and Selena's relationship either.
"Selena is exhausted and busy shooting her latest Disney movie, and in the midst of exhaustion and stress... she got irritated with Justin," the source said.
"Between work and their distance, their relationship has kept her in a funk for a while now."
RELATED STORIES:
Justin Bieber & Selena Gomez To Talk It Out After Splitting
Rihanna Gets Cheeky At Victoria's Secret Fashion Show
Selena Gomez: If I Wasn't Famous 'I'd Have Two Children By Now'
Selena Gomez Sticking It Out With Justin Bieber Because He's 'Good For Her Brand'