Exclusive
What Selena Knows: Cops Could Question Gomez In Bieber Vandalism Probe Because She Was THERE The Night Of The Egging!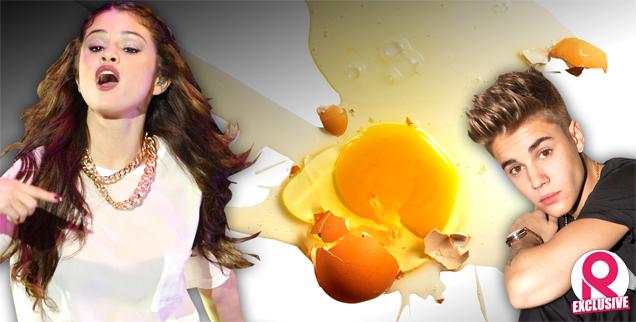 Cops investigating the egg throwing incident at Justin Bieber's mansion have a pop star they could question about what happened — and remarkably — they're likely only finding out about this break in the case by reading this story.
RadarOnline.com has exclusively learned that Bieber's on-again, off-again girlfriend Selena Gomez was at the 19-year-old's Calabasas, Calif., home on the night in question when he allegedly hurled eggs at a neighbors' property, causing more than $20,000 in damage.
Article continues below advertisement
However, it's likely authorities could attempt to question her and others who were at the home on that day/night as their probe continues.
As RadarOnline.com previously reported, Bieber's neighbor, Jeffrey Schwartz, summoned cops authorities to their posh neighborhood at around 7:30 PM on Jan. 9, after he saw the "Baby" singer pitching the eggs at his front door.
The neighbor said he ventured out to his balcony, where he spotted the Canadian singer tossing the eggs and asked him, "What the hell are you doing?"
Article continues below advertisement
At that point, Schwartz has alleged that Bieber began chucking the eggs at him, as they yelled at one another, until the Biebs retreated back into his mansion.
The neighbor gave his account of the incident to police, who took an incident report on the matter.
Five days later, eleven sheriff cars — along with a battering ram unit — returned to Bieber's mansion early in the morning, to execute felony a search warrant and obtain video from star's security cameras that might show what happened days earlier.
As part of their investigation, police arrested Bieber's pal Lil Za for felony drug possession after they allegedly found Ecstasy and Xanax, but lab tests have not yet confirmed that.
Gomez's presence at Bieber's home on the night of the egging is a surprising post-script to the pair's falling out, with the breakdown of their romance having been confirmed via a bombshell RadarOnline.com report on Monday morning.
Article continues below advertisement
"Baby come on. I love you," Bieber, 19, texted Gomez, inciting an angry backlash from the woman he'd been spotted on vacation with just a few weeks before.
"I don't buy that bullshit anymore," Gomez snapped back. "I was honest with you and I gave you a second chance. All my friends were right, You're such an a**hole."
Unabashed, the "Baby" hit-maker responded, "You're all I need right now. I know I can make it right with you."