Exclusive
Justin Bieber Sizzurp Scandal Deepens! See Shocking Video PROOF Linking Him To Drug Use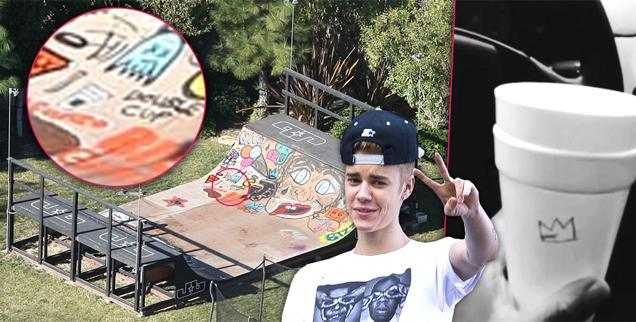 Article continues below advertisement
In the video, Ali shows a close-up of his own double-stacked cup as "R.I.P." by Atlanta rap group Migos -- an ode to sizzurp use -- plays in the background. The cup is marked with Ali's personal insignia -- a crown -- as is common among groups where several people are "sipping" on "lean," as the mix is sometimes known. Bieber has also been known to use the crown as a symbol, and has a tattoo of one on his right chest.
"Two cups filled up with Easter pink," the song begins, referencing the street term for Sprite mixed with codeine and promethazine, "Easter Pink."
Later, the song becomes more specific, referencing "Two cups filled up with Actavis," a high-end mixture of promethazine hydrochloride and codeine phosphate syrup said to be favored by Bieber's posse.
Maejor Ali is driving a Ferrari in the video, and Bieber is infamous for allowing his posse to borrow his own Ferrari.
Article continues below advertisement
But the video of Bieber's pal potentially driving under the influence is not the only post from his friends raising eyebrows in recent weeks. Earlier this week, another of Bieber's friends, R&B singer Khalil, posted a photo of the two which showed a box in the background which appears to contain a dark brown bottle, similar to those that Actavis liquid codeine is shipped in.
One eagle-eyed fan commented on the pic, "WHAT IS THAT BACK THERE"?
Though popular with young adults, especially in urban communities, codeine is a highly addictive substance with serious side effects including seizure, slowed heart rate, and even death.
Rumors that Bieber and his entourage were abusing codeine, among other drugs, intensified in December when photographers spotted graffiti on his skate ramp featuring the words "Double Cup" alongside a picture of a styrofoam double cup. The druggie graffiti also featured what appears to be a marijuana blunt to the left of the cup, and at one point, a small white pill similar to a Xanax bar was sprayed to the right of the cup, but has since been painted over.