Exclusive
Justin's House Of Chaos: Parties Are Out Of Control After Bieber's Security Team Fired For 'Voicing Concern Over His Behavior'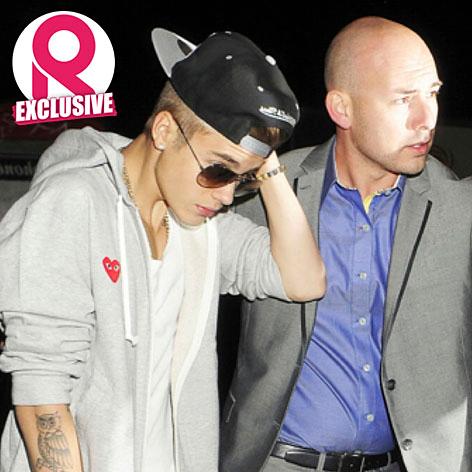 Justin Bieber's security team are bodyguards, not babysitters — and RadarOnline.com has exclusively learned that when one security guard tried to step in voicing concern over the pop star's behavior, he and his entire team were fired.
One bodyguard in particular, Dustin Folkes, used to travel the world with Bieber and keep overzealous teenage fans at bay and make sure pals of the Canadian singer didn't get out of control during parties at his Calabasas, Calif. home, but was fired by management for getting too involved.
Article continues below advertisement
"Dustin got into an argument with Justin's manager Scooter about trying to help with Justin's behavior," an insider revealed.
"Dustin and his company were let go from Justin's security detail for trying to intervene."
But the source says it's now clear — with the recent raid and discovery of drugs at Bieber's home — that Folkes' security company was doing something right, and notes the new security detail are more "lax" which is giving the 19-year-old too much leeway.
As RadarOnline.com previously reported, Bieber's pal Lil Za was arrested on Tuesday for possession of drugs, which the Sheriff's Dept. said in a news conference they believe to be Ecstasy in the pure form of Molly. Xanax was also found, they revealed.
Authorities are still investigating and Bieber has not yet been exonerated.
"Dustin's company used to watch over Bieber's house 24/7 in 12 hour shifts to make sure his idiot friends stayed in line and chaos did not ensue," the source told RadarOnline.com.
"Without security that actually cares about Bieber's well-being, things are getting out of control at the house."
The insider notes that the falling out between Folkes and Bieber's camp was so harsh that they even blurred his face out of all the scenes he appeared in in the Believe documentary.
You can see Folkes' face blurred at 0:47 and 1:09 in the trailer below: