Exclusive
They're REAL & They're GRAPHIC! See The X-Rated Nude Photos Justin Bieber Sexted Selena Gomez After She Claims He's 'A Drug Addict' Who Needs To 'Go To Rehab!'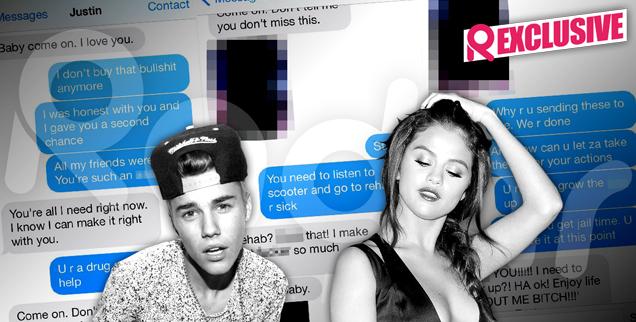 Article continues below advertisement
The messages, which RadarOnline.com has verified are real, were forwarded by a cellphone registered to Gomez's stepfather, Brian Teefey, to one of her friends.
And they begin innocently enough, before turning graphic.
"Baby come on. I love you," Bieber, 19, texted Gomez, inciting an angry backlash from the woman he'd been spotted on vacation with just a few weeks before.
"I don't buy that bullshit anymore," Gomez snapped back. "I was honest with you and I gave you a second chance. All my friends were right, You're such an a**hole."
Unabashed, the "Baby" hit-maker responded, "You're all I need right now. I know I can make it right with you."
But that only made Gomez angrier.
"U r a drug addict," she responded in the text provided by a source. "U need help."
Then, he tried a different approach.
"Come on," Bieber wrote. "Don't tell me you don't miss this," before apparently sending Gomez a photo of his erect penis. Bieber, who is left-handed, grabs his genitals with his left hand in the photo.
Article continues below advertisement
"Stop it," she texted. "You need to listen to Scooter Braun, his manager and go to rehab. U r sick."
As RadarOnline.com has reported, members of Bieber's camp have been urging the oft-troubled singer to enter treatment in the days following his alleged egging attack on his neighbor's home. He is privately denying that he has any issues.
In the messages, Bieber made his feelings on the issue clear.
"Rehab? F*ck that!" he replied. "I make that f***er so much money," before sending Gomez yet another penis pic, apparently unwilling to give up the chase.
Article continues below advertisement
"F*CK YOU!!!!! I need to grow up?!" Bieber lashed back. "HA ok! Enjoy life with OUT ME B*TCH!!! F*ck you. F*ck Scooter. F*ck all y'all. IAM DONE!"
Gomez responded, "Good!!! Go 'retire' or whatever bullish*t attention ur trying to get." (Bieber has toyed with rumors of an impending retirement in recent weeks.)
But refusing to take the bait, he texted back, "Can't hear you over my cash, babe! You're only famous cuz of me. You know it. I know. Everybody knows. Bye. … Go f**k someone else. Keep that talentless p***y away from me!"
When word of the shocking leaked texts reached Bieber's camp Friday, RadarOnline.com has learned, Bieber insisted he had not sent them, leading to an erroneous online report labeling them "phony."
Tellingly, Gomez's rep has so far been silent, despite RadarOnline.com's requests for comment.
What's more, we've learned, Bieber and Gomez started asking questions of friends after the leak emerged, trying to pinpoint who had betrayed them.
The one thing the sordid saga does confirm is that someone who was once inside Bieber's inner circle has turned on him as his once squeaky-clean public persona continues to shatter beyond recognition.