Exclusive
Justin Bieber 'Ignored' Manager's Advice To Kick Lil Za Out Of Mansion Before Drug Arrest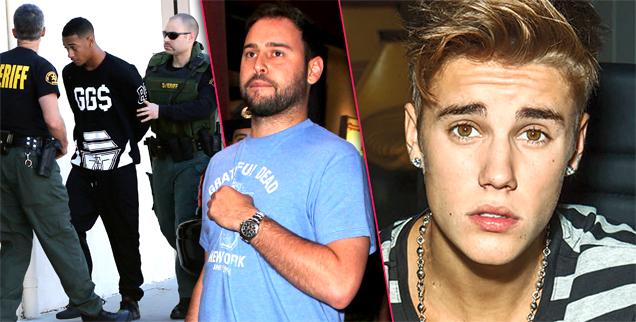 Justin Bieber ignored the advice of key members of his entourage — including manager Scooter Braun — who had advised the troubled pop star to kick out Lil Za from the Calabassas, Calif., mansion where he was arrested for felony drug possession on Tuesday, RadarOnline.com has been told.
Lamented one source: "People close to Justin had wanted Lil Za out of the picture, but obviously Justin makes his own decisions."
Article continues below advertisement
"Lil Twist and Lil Za were ordered by Scooter to vacate Justin's house," a source close to the situation told RadarOnline.com.
"He wanted them out last September and they were even set up with their own apartments. But it never happened. Scooter desperately wanted to clean house."
Lil Za's arrest followed a raid when eleven police patrol cars arrived at Bieber's house armed with a battering ram and search warrant as part of a felony vandalism investigation.
Article continues below advertisement
Police executed the warrant after the 19-year-old was accused of costing his neighbour $20,000 in damages.
It's alleged Bieber threw at least 20 eggs at a house in his gated community in Calabasas, Calif, last Thursday.
Video footage has been released in which the neighbor can be heard shouting, "I see you. I f**king see you!" before a boy, who is allegedly Bieber, responded, "F**k you! I got another one for you, actually!"
Cops were searching for searching for anything involved in the incident, such as physical evidence, recordings or egg residue.
Bieber was not linked to the ecstasy and Xanax found which led to the arrest of Lil Za, RadarOnline.com was told.