Exclusive
Sex, Drugs And Rap N Roll – You Better Belieb It! Secrets Of The Wild Parties At Justin's Mega Mansion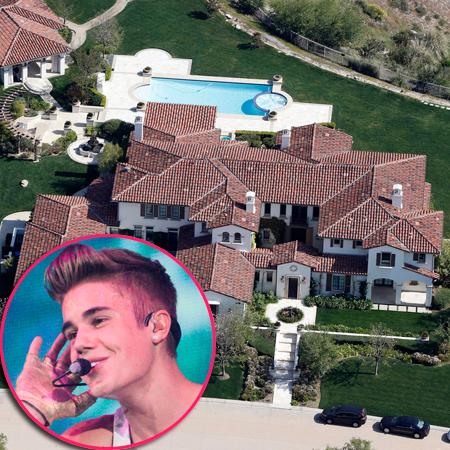 When Justin Bieber's away, his entourage will play!
The Baby, Baby singer's mega-mansion has been transformed into the ultimate bachelor pad by his hard-partying pals who throw all-night bashes while he is on tour - and RadarOnline.com has all the salacious details.
"There are usually only five dudes and about 42 girls," a regular raver at Casa Bieber in Calabasas, Calif., tells RadarOnline.com in an exclusive interview.
Article continues below advertisement
"A couple of them are strippers and the rest are just girls that everyone knows. All the guys are pretty much hooking up with all the women, they find two or three girls that they like a night.
"The parties are pretty wild, it is like an insane frat party but with way less dudes and a lot more hot chicks! They go on until about 4 or 5 in the morning."
But, not all the myths surrounding what goes on at the party pad are true, claims the source.
"Everyone is saying there is a lot of 'sizzurp' codeine syrup but that's not true, the only drug used by some people is marijuana," he explains. "Then other people drinking Ciroc vodka or Stella Artois beer.
"Justin knows about the parties and doesn't mind - but there's always a bodyguard to make sure no girls are taking pictures. Everyone who comes in has to sign a non-disclosure and leave their cell phone at the door with security."
Article continues below advertisement
Spread out on 1.3 acres of land and covering 10,000 square feet, the mega-mansion turned party central is luckily so huge that even the closest neighbors can't hear the mayhem that's going on inside the property, reveals the party-goer.
"We haven't heard anything from the neighbors because the house is so big and we usually keep it in one room – the Hookah Lounge – and then sometimes go out and party in the pool," the reveler tells RadarOnline.com.
"You can't hear the music outside of the estate though and no cops have ever been called - if a neighbor has complained it will probably have been about the amount of cars out in the street."
And, the party doesn't stop when the Canadian heartthrob is home – but it does get considerably more PG!
"It just depends on what kind of mood Justin is in on the night. But, it's definitely ramped down a notch or two.
Article continues below advertisement
"You gotta remember, Justin's 19 and what are other kids his age doing?" The partier asks. "He's doing the same thing as any teen - it's just that he has more money to do it with which means a much larger scale."
Among the core group of hosts – who all live at the $6.5 million estate in a suburb of Los Angeles for free – are aspiring rappers King Kevi (a.k.a. Kevin Pederson) and Lil Twist, but despite having free run of the seven bedroom and eight bathroom mansion, the source insists that the real life Entourage isn't mooching off the teen idol.
"Kevi comes from a wealthy family and is in talks with record labels - and the other guys are worth at least $5 million each. Justin doesn't give them money, just lets them stay at his house," RadarOnline.com's insider says.