Justin Bieber's Cannabis Caravan! Groupie Claims Singer Puffed 'Joint After Joint' On The Road In 'Pimped Out' Ride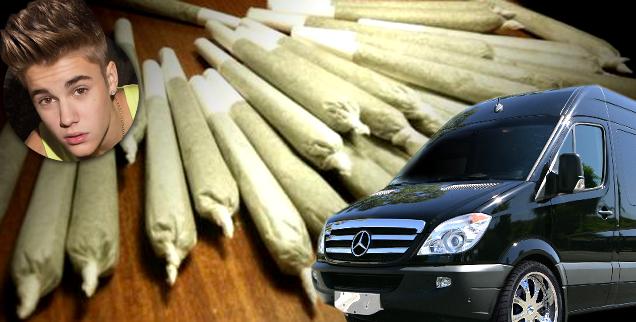 A groupie who visited Justin Bieber's Calabasas home claims the singer started a pot party on the way there, "smoking joint after joint" amidst a luxury bus full of hangers-on and young attractive females.
It all started after the girl and her pals crossed paths with Bieber and his associates at a Los Angeles club, who invited her and her pals out to enjoy the night in a Mercedes bus so "pimped out" you'd think Xzibit himself had it put together.
Article continues below advertisement
"There are three TVs and a minibar in there," the girl told US Weekly, noting that the Canadian singer (who was not personally driving) was a bit too occupied to bother looking for the remote.
"He was smoking joint after joint -- he had an entire mason jar full of weed and his homeboy was rolling joints for him," she said. "At one point he started flirting with a few of us -- he was asking us to move closer to him while cracking stupid jokes."
Eventually, the caravan of cannabis wound up in Calabasas, where the cocky homeowner hasn't left an egg-cellent impression on his neighbors.
She recalled that "a really tough security guard scanned our IDs, took our phones, and said 'You girls are good to go.'"
There, the 19-year-old showman "smoked joints and passed one around, but he didn't talk much and was on his phone a bit," the groupie said.
"It was hazy and hot, and I could barely see ... eventually, we got so bored that we just called the cab for ourselves," the groupie said, adding that that the attending cab driver who picked them up informed her and her pals he been picking up girls here for the past four nights."
Article continues below advertisement