Taking Tips From Lady Gaga? Justin Bieber Gets Covered In Blood And Meat For Shocking Photo Shoot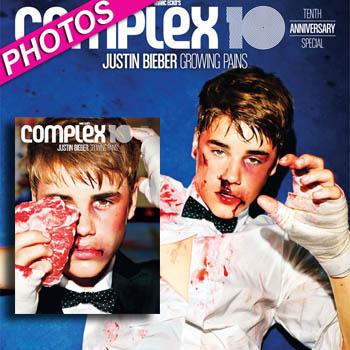 See Justin Bieber like you have never seen him before – bloodied up with a slab of steak on his face!
In shocking new photos that bring back memories of Lady Gaga's infamous meat dress, the 18-year-old pop star shows off a decidedly different side on the April 2012 cover of Complex magazine – and RadarOnline.com has the photos and details.
On the dual covers of the music magazine's 10 year anniversary issue, the young star, who is wearing a tuxedo and bow-tie, is bloodied up and holding a slab of meat to his face.
Article continues below advertisement
"That's right, the world's biggest pop star is 18 now, and he's through being your punching bag," Complex explains about the gory cover photos.
In the article, Bieber doesn't try to hide his self-confidence at all – and his manager even reveals that his client is in competition with the late King of Pop himself.
"He's competitive with Michael Jackson," Scooter Braun reveals. "He looks at other groups in his space not like competition, but as part of the team. When he looks at who he should chase and who's setting the bar, we only talk about Michael Jackson. We talk about Michael probably every other day."
"There's no point in doing this if I'm not going to be the best," Bieber says. "I give up a personal life. I give up my friends and family to pursue what I love and to make my fans happy. Why would I give up so much to be just another singer?"
"When I release something I want it to be the best," he continues. "When I release my fragrance, I want it to be the number-one fragrance; I don't want it to be the ninth-best-selling fragrance. My Christmas album went double-platinum worldwide. Christmas albums don't do that, and that still wasn't good enough for me."