Naked Photo Of Michael Jackson Dead Shown In Court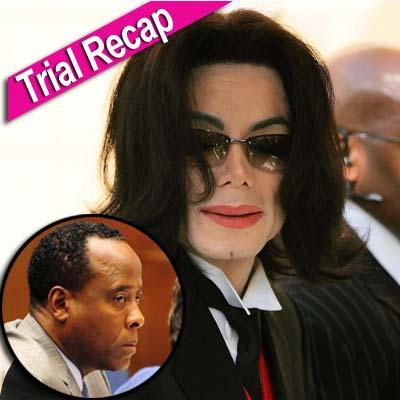 The trial of Michael Jackson will resume Wednesday, in the wake of Tuesday's emotional outing in which prosecutors briefly showed a graphic autopsy photo of the late King of Pop that moved a fan (who won a lottery for a seat in the courtroom) to tears.
The image showed Jackson's pale, lifeless body, with a hole in his chest where doctors tried to revive him. (The singer's genitals were covered in the photo shown to the court). Forewarned, Jackson's mother Katherine and sister Rebbie Jackson left prior to the unveiling of the gripping image.
Article continues below advertisement
Dr. Christopher Rogers, the medical examiner who performed the autopsy on Jackson, testified Tuesday the Thriller singer "was healthier than the average person of his age" at 5-feet-9 and 136 pounds.
Rogers also said in testimony "there was dark liquid found in Mr. Jackson's stomach. It could have been fruit juice though it's unknown what the dark liquid was."
In keeping with the defense's assertion Jackson self-medicated, Murray's attorney Michael Flanagan showed jurors nine-and-a-half Lorazepam pills from a prescription bottle of Michael Jackson's that were recovered from his bedside table.
Murray is currently standing trial in the June 25, 2009 death of the pop legend from acute intoxication of a powerful anesthetic complicated by other sedatives.
Prosecutors claim Jackson died from a lethal dose of Propofol, a strong anesthetic which Murray admitted to administering to the Thriller singer to help him sleep. Murray's attorneys say that Jackson might have drank or injected himself with the deadly dose while Murray, who'd just given him a dose, was out of the room.