Coroner Admits 'Unknown Liquid' In Michael Jackson's Stomach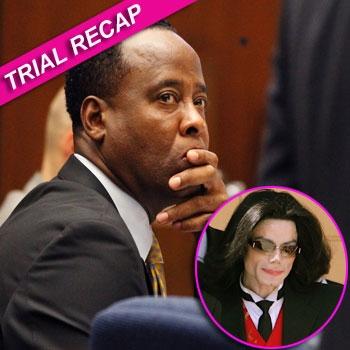 By Jen Heger - RadarOnline.com Legal Editor
The medical examiner that did the autopsy on Michael Jackson admitted under cross examination by Dr. Murray's lawyer, Michael Flanagan, that there was an unknown liquid in Michael Jackson's stomach, RadarOnline.com is reporting.
The jury listened intently as Flanagan questioned Dr. Christopher Rogers about the contents of Jackson's stomach. "There was dark liquid found in Mr. Jackson's stomach. It could have been fruit juice...it's unknown what the dark liquid was," Dr. Rogers said.
Article continues below advertisement
The medical examiner revealed that there approximately 70 grams taken from the King of Pop's stomach. Flanagan also showed jurors 9 1/2 Lorazepam pills from a prescription bottle of Michael Jackson's that was recovered from his bedside table.
It was a very emotional day as Deputy District Attorney David Walgren showed jurors an autopsy photo of Michael Jackson. Dr. Rogers said the King of Pop was 5'9 and weighed 136 pounds and "he was healthier than the average person of his age.". The autopsy photo evoked tears from Jackson family members, and Jackson fans.
MORE ON:
Celebrity Justice