Lady Gaga Talks Eating Disorder, 'I Used To Throw Up All The Time'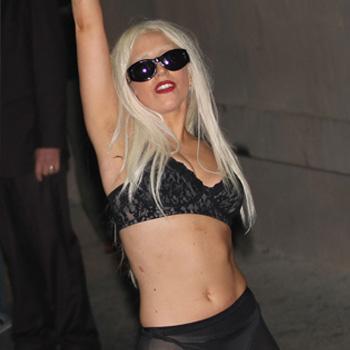 Lady Gaga, who's been open as a book about her past struggles with self-esteem and bullying, admitted she had a serious eating disorder during her high school years, resulting in a longtime case of bulimia.
The socially conscious Telephone singer took the podium at It's Our Turn, a conference held at a Brentwood, California school and hosted by former California First Lady Maria Shriver.
Article continues below advertisement
A student there asked her: "I struggle with body issues, and I know you're so confident in the way you dress. And I am wondering how you deal with such issues."
The Edge of Glory singer responded, "I used to throw up all the time in high school. So I'm not that confident. I wanted to be a skinny little ballerina, but I was a voluptuous little Italian girl whose dad had meatballs on the table every night."
Gaga, 25, said home cooking was the last thing she needed.
"I used to come home and say, 'Dad, why do you always give us this food? I need to be thin,'" the Poker Face singer recalled. "And he'd say, 'Eat your spaghetti.'"
Gaga told the student, "It's really hard, but … you've got to talk to somebody about it."
Gaga said the constant regurgitation also put her million dollar pipes in peril.
"It made my voice bad, so I had to stop. The acid on your vocal chords ... it's very bad," she said.
Article continues below advertisement
Gaga said that even in superstardom, she's not totally secure with her body.
"Weight is still a struggle. Every video I'm in, every magazine cover, they stretch you -- they make you perfect," she shared. "It's not real life. I'm gonna say this about girls: The dieting wars have got to stop. Everyone just knock it off.
"Because at the end of the day, it's affecting kids your age -- and it's making girls sick."