Exclusive
Nutritionist Doubts 20-Inch Waist Model's Diet Claims: 'A High Metabolism Doesn't Work That Well!'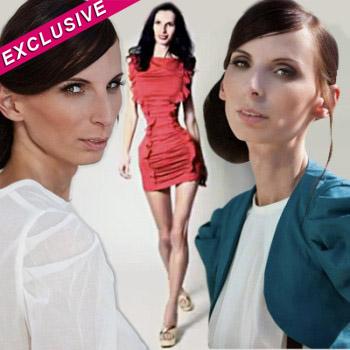 She may have a 20-inch waist but model Ioana Spangenberg could also have cellulite, digestive problems and risk the onset of early menopause, a Hollywood nutritionist tells RadarOnline.com exclusively.
Carolyn Scott-Hamilton has not treated the model, but has given her expert opinion on the Romanian's claims she snacks on junk food daily.
As RadarOnline.com previously reported, despite 5ft 6 inch, 30-year-old Ioana only weighing 84 lbs, she insists she lives on a diet of chips, pizzas and kebabs.
Article continues below advertisement
"It's definitely possible that she's eating junk food every day but it depends how much," Carolyn says. "It could be a small handful of chocolate and potato chips throughout the day."
Even so, while Carolyn says the model could have a "super fast metabolism" eating a diet packed with junk food isn't good, even if you're skinny.
"If she's eating all that salt and sugar she's got to have cellulite," the expert says. "She risks having problems with her reproductive system, her digestive track, as well as onset diabetes because she is eating so much sugar."
Carolyn also says: "At 5ft 6 a healthy weight would be 130 lbs. But at 84 lbs that means she has very little to no muscle. It could mean she is so malnourished, starving even, that the muscles have atrophied causing the low weight."
Although Carolyn says it is possible for someone to naturally have a fast metabolism she says it is less likely if you're a 30-year-old woman.
"In order to be that thin, she would need to consume about 500 calories or less – about a quarter of a candy bar a day," she says. "A high metabolism doesn't work that well."
Article continues below advertisement