Hitting Below The Belt? Gym Chain Invites Diabetic Paula Deen To Exercise 'Before Its Too Late'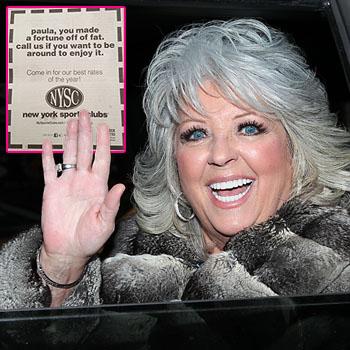 By Debbie Emery - RadarOnline.com Reporter
Not many people were surprised when celebrity chef Paula Deen admitted she had suffered from diabetes for three years, but Food Network fans may be shocked to spot her in workout gear sweating it out on a treadmill next to them.
That unlikely scenario might become a reality if the Southern cooking queen of the kitchen takes up the challenge by New York Sports Club, which has invited her to join the gym - before it's too late!
Article continues below advertisement
The fitness chain took out an ad in the January 25 edition of the New York Times that read: "Paula, you made a fortune off of fat. Call us if you want to be around to enjoy it."
As RadarOnline.com previously reported, Deen announced that she was suffering from Type 2 diabetes earlier this month, coicindentally at the same time she began taking Victoza, a once-daily, non-insulin injection, and continues to "make lifestyle adjustments, including lightened-up versions of her favorite recipes."
Famous for her calorie-laden, gut-busting recipes, the 65-year-old chef was spotted tucking into a juicy cheeseburger and greasy fries on a Caribbean cruise this week, proving that she's not made that many changes to her unhealthy diet.
While a gym membership and fitness regime are exactly what she really needs, critics have slammed the cold-hearted way New York Sports Club targeted her.
"This tasteless ad crosses the line," commented Business Insider.