Paula Deen On Having Diabetes: 'It Is Not A Death Sentence'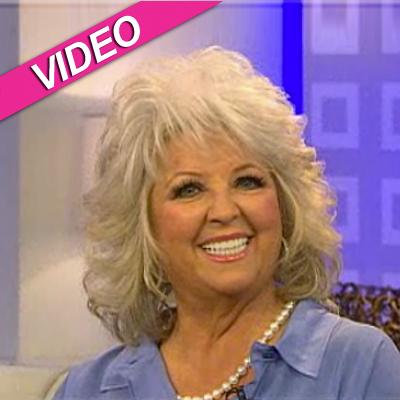 By Neil Woulfe - RadarOnline.com Senior News Director
Saying "I'm great," celebrity chef Paula Deen went on Tuesday's Today Show to publicly announced that yes, she has Type 2 Diabetes -- and to explain why she kept it secret for several years.
The Food Network star -- infamous for her over-the-top fatty Southern cuisine – said she learned of her condition during a routine exam.
"I was diagnosed three years ago during a regular physical exam with my doctor that I had Type 2 Diabetes," Deen said. "I'm here today to let the world know that it is not a death sentence."
Article continues below advertisement
Al Roker -- who interviewed Deen -- pointed out that she is a "paid spokesperson for Novo Nordisk" and asked why she took so long to confirm the rumors. (The National Enquirer first reported the story in April, 2005.)
Deen said she kept her condition "close to my chest" because "I had to figure things out in my own head...talk to my doctor … I had nothing to give to my fellow friends out there."
When Roker asked how she would respond to people who might say she delayed making the announcement so as to not damage her reputation and industry, she responded: "People are not going to quit eating. We quit eating, we're all out of here. I wanted to bring something to the table when I came forward, and I've always been one to think that I bring hope, because I've had lots of obstacles in my life, y'all."
Glamorous Life of Food Network Chefs
When Roker asked Deen if her condition was a direct result of her fatty diet, she admitted that it's "part of the puzzle," but she cited other factors including genetics, lifestyle, diet, stress and age. Deen said that like many baby boomers, "there's a good chance that Type 2 Diabetes will be one of the issues you have to face."
When asked if she will change the way she eats, she responded: "Here's the thing: I have always encouraged moderation. On my show I share with you all these yummy fattening recipes, but I tell people, 'In moderation. In moderation…
Article continues below advertisement
"I've always eaten in moderation," she said, pointing that the recipes seen on her show account for only "30 days out of 365 years… and it's for entertainment…"
"It's like I told Oprah Winfrey a few years ago: 'Honey, I'm your cook, not your doctor,'" Deen said. "You are going to have to be responsible for yourself."
As RadarOnline.com reported earlier Tuesday, Deen first spoke to her fans about her condition in a video posted on her new website, Diabetes in a New Light™.
In the video, she says: "Hey ya'all. I'm here to share something with you. A while back I was told that I have Type 2 Diabetes. I wasn't about to change my life, but I have made simple changes in my life, like cutting back on one of my favorite things -- sweet tea! And for a Southern girl, that's a big deal. And I'm taking more walks with my husband Michael and I'm running after our grandchildren. And I love it all.
MORE ON:
hollywood happenings
Article continues below advertisement
"Over the years, many of you with Diabetes, have asked me for ways to make some of my recipes a little lighter. That's why Bobby, Jamie, and I are so excited to have teamed up with Novo Nordisk because together we're going to be here to provide you with new ways to approach lighter cooking while still keeping it light and delicious.
"We'll be sharing with you some simple things you can do every day, such staying active, and managing stress, and just pure taking care of yourself.
"My hope is that you can see life with Diabetes in a new light and that you'll get the most out of each and every day. So ya'll pull up a chair and join us because as always I'm wishing you love and lighter dishes from my kitchen to yours."
In a release, Deen also revealed she's taking Victoza, a once-daily, non-insulin injection, and continues to "make lifestyle adjustments, including lightened-up versions of her favorite recipes."
Article continues below advertisement
The 64-year-old chef from Albany, Georgia has been slammed by health groups for the high amounts of fat, salt and sugar in her dishes and for even including cheesecake for breakfast in her children's cookbook, Lunch-Box Set.
Last August, No Reservations host Anthony Bourdain called Deen "the worst, most dangerous person to America" and said she should "think twice before telling an already obese nation that it's OK to eat food that is killing us."
True to form, the menu at her Savannah, Georgia restaurant The Lady & Sons includes such gut-busting offerings as pulled pork, meatloaf sandwich with mayonnaise, mac and cheese, Southern fried chicken, peach cobbler and gooey butter cakes.
It seems that even one of her sons, Bobby Deen, understands the health dangers of Paula's creations, as he launches a new show on the Cooking Channel called Not My Mama's Meals, which offers healthier alternatives to Southern favorites.