Exclusive
Zoe Saldana Transforms From Action Chick To Sickly Skinny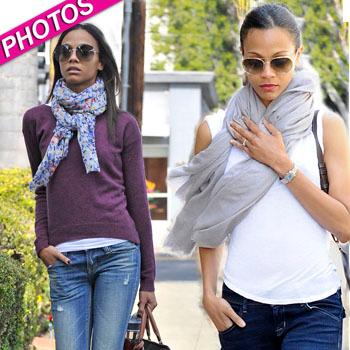 By Debbie Emery - RadarOnline.com Reporter
Where has all Zoe Saldana's muscle gone?
The actress got into serious kick-ass shape for her starring role in last year's action movie Colombiana but now she looks like she is wasting away, and her dramatic weight loss could be affecting her health, RadarOnline.com can exclusively reveal.
"She looks thin and weak, and incredibly depleted," nutritionist Majid Ali, who has not treated the star, told RadarOnline.com in an exclusive interview.
Article continues below advertisement
At 5'7," the weight loss expert estimates that stunning Saldana has plummeted from a healthy, toned 135 pounds, to a sickly thin 100 pounds in just a few short months.
2011 was undoubtedly a tumultuous year for the Avatar star. After being catapulted to fame in the 3D fantasy phenomenon, she was preparing to walk down the aisle with longtime fiancé Keith Britton but the couple surprisingly called off the wedding last November after being together 11 years, reported RadarOnline.com.
Now the 33-year-old actress is dating Bradley Cooper, and is sadly starting to resemble the gaunt, bony image of his former high profile flame, Renee Zellweger.
Ali explained that jumping from a long-term relationship to singledom and then a new love so quickly is bound to cause stress, which in turn can have an adverse affect on her appetite and lead to weight loss.
Dressed in a tight sweater and jeans that were practically hanging from her narrow hips and tiny waist in Los Angeles on Tuesday, Zoe was a far cry from her Colombiana character Cataleya Restrepo, the tough-as-nails assassin who sought revenge on drug dealers who killed her family.
Article continues below advertisement