Trouble in Paradise! Bradley Cooper & Renee Zellweger Split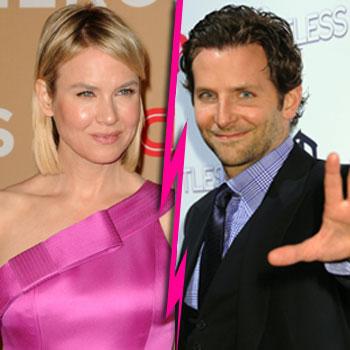 Hunky Hangover star Bradley Cooper and Bridget Jones actress Renee Zellweger have split, RadarOnline.com is reporting.
The couple, who had been together almost two years, have not commented on the surprising news and reps remain silent on multiple reports detailing the major trouble in paradise.
Multiple sources have told UsMagazine Cooper and Zellweger's romance is officially over, following photos which emerged that would reportedly 'break' Zellweger's heart.
Article continues below advertisement
Star Magazine revealed how Cooper had betrayed Zellweger by sneaking around with other women, including Hollywood darling Sandra Bullock and Justin Timberlake's ex-girlfriend Jessica Biel.
In one photograph, Biel and Cooper were snapped sharing an intimate moment on the Los Angeles set of their new film New Year's Eve on February 26, during a break from filming.
Reps for Cooper and Zellweger did return RadarOnline.com's request for comment on Friday, hot on the heels of the most recent break-up report.
However Cooper, 36, was spotted solo in New York on Friday.
Earlier this week, the leading man was quiet on his romance with Zellweger when shock jock Howard Stern quizzed him on his show.
"I'm not going to talk about that," Bradley told Howard, when asked about Zellweger.
"I just don't talk about it… certain things are just — you understand that."
The notorious shy couple made few outings together but were spotted on a rare outing last October, attending the CAA Young Hollywood Party at Los Angeles hotspot MyHouse.
They haven't been seen together since leaving a hotel in downtown New York City, where they had stayed; they left in separate cars, as these photos show.
RELATED STORIES: