Justin Bieber Turns 18 Thursday & Gets A Surprise on Ellen!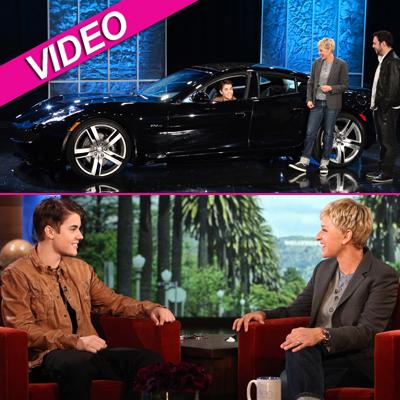 By Neil Woulfe - RadarOnline.com Senior News Director
Justin Bieber is celebrating a milestone -- he's now 18 -- and during an appearance on The Ellen DeGeneres Show airing Thursday, he gets quite the birthday surprise -- A Fisker Karma.
What's a Fisker Karma, you ask? (Don't worry, we Googled it for you.) It's a plug-in hybrid luxury sports sedan produced by Fisker Automotive and manufactured in Finland. The base model features an "eco-friendly interior", including salvaged lumber from fires or even from lake bottoms, and it has a solar paneled roof. They are extremely rare and costs anywhere from $102,000-$116,000. It can reach speeds of up to 125 mph and can reach 60 mph from a standstill in 6.3 seconds!
Article continues below advertisement
Bieber's manager Scooter presented Biebs with the gift, but not before piquing his interest -- and ours!
"You work really, really hard," Scooter said. "I always yell at you -- don't get anything flashy. You know, we're not about that. Be humble, be humble and I kind of broke my own rule...
"So we wanted to make sure your were environmentally friendly, and we wanted to make sure since you love cars that when you're on the road you are always environmentally friendly and we decided to get you a car that would make you stand out, I think you know where I'm going and you're kind of freaking out right now."
Watch the video on RadarOnline.com
As Bieber -- and all of us -- waited to see what kind of car it was, Ellen turned the Baby singer around to show him the uber cool sports car.
"That's a Fisker Karma," Scooter said.
Later in the show, the wonderful Megan Mullally sang a birthday diddy for the Biebs -- her own rendition of You Give Me Fever. (She changed it to You Give Me Bieber!)
Justin was wearing a Dolce & Gabbana jacket.