Lady Gaga To Oprah: 'I Want Kids, I Want A Soccer Team And I Want A Husband'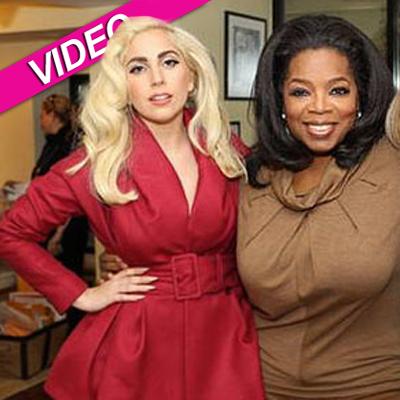 Article continues below advertisement
The Poker Face singer laid all her cards on the table to Oprah Winfrey during her two-hour chat on Sunday's Oprah's Next Chapter, in which she opened up, most notably, about the long-term goals she holds sacred in her personal life.
While the Bad Romance singer wouldn't confirm or deny reports she's found a mate to sire her soccer squad (she's been romantically linked to hunky actor Taylor Kinney), she said she's satisfied with her status quo.
Watch the video on RadarOnline.com
"I would just say that I'm very happy -- that's all I'm saying -- I am happy I am very happy," she told Winfrey. "All I will say is that I am wonderfully happy and more creative than ever."
Oprah asked her, "Do you think its hard to be in a relationship with someone who is as strong and determined as you?"
"Not the right one; and when you find them, you know," Gaga responded.
Article continues below advertisement
The Edge of Glory singer -- doing what she said would be "her last interview for a long time" -- told Oprah she's taken a new tack in terms of dealing with the countless media reports about her life and goings-on.
"The latest thing I do is, I don't read a damn thing," Gaga explained. "No press, no television. If my mom calls and says, 'Did you hear about?' I don't want to know nothing about anything that is going on in relation to music -- I shut it all off."
Also appearing on the special (which was taped at Gaga's parents New York home) was Gaga's mother Cynthia Germanotta, who said there were times she didn't understand, or wasn't comfortable with, her daughter's elaborate act/ stage persona.
"When Gaga started emerging when she was performing -- I think it was at Joe's Pub downtown -- and she was in her bikini performing Lady Starlight and decided that night to be heavy metal, to light hairspray on fire," her mother said. "Some people left when that happened and a lot of people stayed and thought it was cool, but her father and I were like, 'Honestly, I think she has a screw loose' ... she was always being provocative."
Article continues below advertisement