First Look At Lady Gaga & Taylor Kinney Together!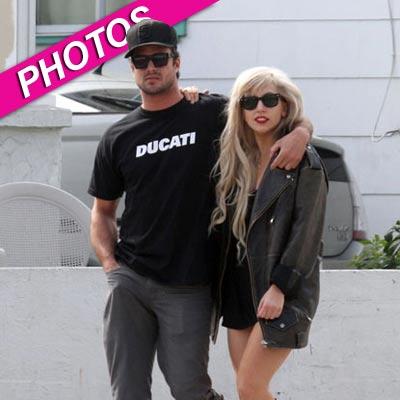 While it's widely known Lady Gaga and Taylor Kinney, her beefcake co-star in her You & I video, have been seeing one another, we've finally got the first look at them looking awfully cozy together.
The Bad Romance singer, 25, and Kinney, a 30-year-old actor from Neffville, Pennsylvania, were spotted recently walking arm-in-arm in the California beach town he lives in.
Gaga has reportedly been looking to purchase a home in Kinney's home state, where his family lives.
Article continues below advertisement
In the just-released shots taken December 11, both are clad in dark colors and sunglasses: Gaga in a leather jacket and knee-high boots, and Kinney in grey pants with a San Diego Padres baseball cap and a t-shirt advertising bike-maker Ducati.
A eyewitness told Star magazine that Gaga and Kinney held little back in showing off their affections for one another at a San Diego bar back in September.
"She and Taylor were flirting all night and kept smacking each other's butts," the witness told Star. "She was grinning from ear to ear."