Christina Hendricks Was Bullied At School: 'I Had No Idea I Could Be Pretty'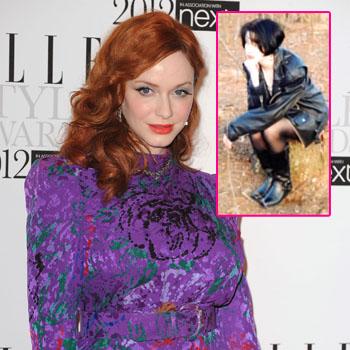 Add Mad Men's Christina Hendricks to the list of celebs coming forward to share their personal experiences with bullying, as the light has been shined on the burgeoning social problem among young people in recent years.
"My school days were pretty unhappy," Hendricks, 36, told the Daily Mirror. "I had the worst high school experience ever. I went to a very mean school and was bullied like crazy. I was a bit of a Goth and I was also part of the drama group, so my friends and I were all weird theatre people and everyone just hated us."
Article continues below advertisement
The Tennessee native continued: "There was a long corridor with lockers on either side and kids would sit on top of them and spit on you. It was like something out of Lord of the Flies."
Hendricks said her self-esteem got a much-needed boost when she excelled in a modeling competition after graduation.
EXCLUSIVE VIDEO INTERVIEWS: On The Red Carpet At Mad Men's Fourth Season Premiere
"When I got the pictures back my mom and I started crying because I had no idea I could be pretty," the red-head beauty told the paper. "I'd always felt awkward. It was the first time I really felt pretty. It just sort of changed my perspective of myself."
Hendricks, who plays tough as nails Joan on the Emmy-winning AMC series -- said if she "could go back and tell my 14-year-old self anything it would be, 'Don't worry. You're going to be doing exactly what you want to be doing and those people who are a**holes now are still going to be a**holes in 20 years. So let it go!'"
Other celebs to come forward with tales of torture from their past include Khloe Kardashian and Lady Gaga.