Christina Hendricks Upstages Sarah Jessica Parker As She Busts Out on The Red Carpet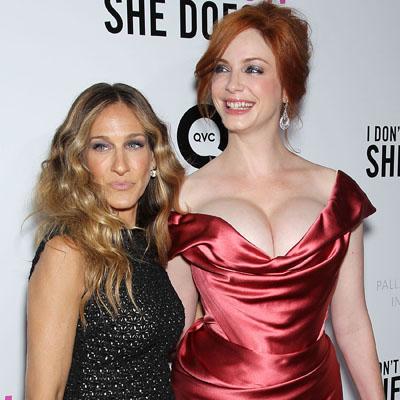 Sarah Jessica Parker is used to being the center of attention with her striking fashion statements, but all eyes were on Christina Hendricks on Monday night thanks to her blockbuster sized bust.
The Mad Men star was supposed to play second fiddle at the New York premiere of Parker's new movie, I Don't Know How She Does It, but a low-cut Vivienne Westwood gown that barely covered Hendrick's cleavage ensured that she completely overshadowed the petite Sex and the City actress in every way.
Article continues below advertisement
In a sharp contrast to 36-year-old Hendrick's figure-hugging satin gown that showcased her best assets, Parker, 46, wore a conservative but elegant long black dress that didn't capture anyone's attention.
The women both star in the new comedy, I Don't Know How She Does It, with Sarah Jessica playing the lead role of Kate Reddy, a finance executive who juggles a high pressure job while looking after her two children, and Christina playing the back-up role of Allison Henderson.
MORE ON:
christina hendricks
The buxom redhead has openly talked about her body issues and huge bust, and says she is extremely comfortable with her weight despite being deemed fat by Hollywood standards.
"I guess my mom raised me right. She was very celebratory of her body. I never heard her once say, "I feel fat,'" Hendricks told CNN.com in 2010.
"Back when I was modeling, the first time I went to Italy I was having cappuccinos every day, and I gained 15 pounds. And I felt gorgeous! I would take my clothes off in front of the mirror and be like, 'Oh, I look like a woman.' And I felt beautiful, and I never tried to lose it, 'cause I loved it," she revealed.