Gay Teen In Canada Commits Suicide After Repeated Bullying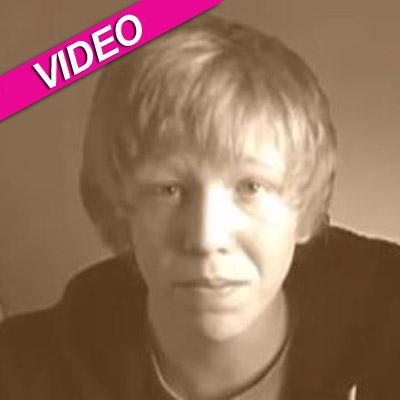 Only weeks after a 14-year-old openly gay boy in Buffalo, New York committed suicide after enduring repeated bullying from his classmates, it's happened again -- this time in Canada.
Jamie Hubley, a 15-year-old boy from Ottawa, committed suicide on Friday, authorities say.
Just as Jamey Rodemeyer did in Buffalo, Hubley, a high school sophomore, documented his troubled life, including his overwhelming depression in a heartbreaking blog, called "You Can't Break… When You're Already Broken," reports the Ottawa Citizen.
Article continues below advertisement
In his blog, he spoke of his despair of being the only openly gay student at his school. He also talked of suicide and made numerous references to and posted photos of self harm and cutting.
Hubley entered his last post on Friday, the day he killed himself. In it, he writes of hitting "rock bottom" and tells his parents, he loves them.
Im a casualty of love.
Well, Im tired of life really. Its so hard, Im sorry, I cant take it anymore.
First Id like to mention my friends Nancy, Abby, Colleen, jemma, and Kasia
Being sad is sad : /. I'v been like this for way to long. I cant stand school, I cant stand earth, I cant stand society, I cant stand the scars on my arms, I cant f***ing stand any f***ing thing.
I dont want my parents to think this is their fault either… I love my mom and dad : ) Its just too hard. I dont want to wait 3 more years, this hurts too much. How do you even know It will get better? Its not.
Article continues below advertisement
I hit rock f***ing bottom, fell through a crack, now im stuck.
My favorite singers were lady gaga , Adele , Katy perry, and Jessie james, Christina aguilara and most of all I think KASIA!!! I LOVED Singing, and she helped me a lot : ) Im not that good at it though :"/, Im going to miss you guys
(well You know who you are, But to the people who didnt like me (many) A big f*** you, Go ride a unicorn. But w/e I love you anyway.)
Remember me as a Unicorn :3 x) MAybe in my next life Il be a flying squirreel :D
Il fly away.
In earlier posts, Hubley wrote of how difficult school was for him amidst all the taunting.
"I hate being the only open gay guy in my school… It f***ing sucks, I really want to end it. Like all of it, I not getting better theres 3 more years of highschool left, Iv been on 4 different anti -depressants, none of them worked. I'v been depressed since january, How f***ing long is this going to last. People said "It gets better". Its f***ing bull****. I go to see psychologist, What the f*** are they suppost to f***ing do? All I do is talk about problems, it doesnt make them dissapear?? I give up."