Bullied Gay Teen Jonah Mowry: 'It Gets Better And You Can Be Happy'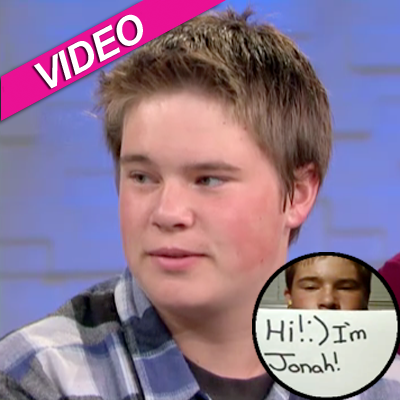 Openly gay teenager Jonah Mowry, whose viral "Whats going on" video has racked up more than 7.8 million views on YouTube, advised teens who feel his despair to open up about what they are feeling, and that "it gets better and you can be happy... you just have to try."
Mowry, a 14-year-old from Lake Forest, California, appeared alongside his parents and brother on Good Morning America Friday, in his first interview since garnering attention for the harrowing video in which he flashes a series of index cards with heartbreaking descriptions of the bullying he's suffered.
Article continues below advertisement
Mowry said of his initial reaction to the clip going viral: "I was just like, really happy and excited to know that people would be there for me and that the topic was getting the attention it needed.
"He said that when he recorded the video during a late night this past August, he was scared at the prospects of another school year of enduring endless bullying, especially with all of his close friends leaving to go to high school.
"I didn't think I could make it because last year, when I had all the support, I barely made it out," Mowry said.
Mowry described the torment he endured at the hands of merciless bullies as "pretty bad."
"I would come home crying a lot, but I wouldn't tell anybody, so that just made it worse," he said. "And also, having the weight of having to come out to my parents."
Article continues below advertisement
His mother Peggy Sue said she knew that her son was being teased, but didn't want to go to the school and exacerbate the issue. She said she was "devastated" after seeing the video, especially that her baby could be contemplating suicide.
His father Kevin said he was also devastated, as well as upset he didn't see the signs of what his son was going through earlier.
Jonah said since the video has gone viral, he's found support from his school principal, who reassured him he would do his best to make sure no further abuse would occur.
As for the bullies?
"Most of them all apologized and we're all pretty OK with each other now," Mowry said.
As we previously reported, the viral video shows Mowry, silent and sobbing, as Sia's Breathe Me plays. He goes through a series of index cards in which he describes some of the slurs he is labeled by classmates, the cutting habit he picked up as a coping mechanism, and the inner turmoil he feels as a result. It ends on an upbeat note, with the resurgent boy holding up a card that reads, "I'm not going anywhere, because I'm stronger than that. I have a million reasons to be here."
Article continues below advertisement
Lady Gaga, Rosie O'Donnell, Ricky Martin and Jane Lynch have tweeted supportive messages to Mowry after viewing it.
According to the Gay, Lesbian and Straight Education Network, almost 90 percent of LGBT students have been harassed at school in the past year.
For more information about preventing bullying, go to www.thetrevorproject.org