Glee's Jane Lynch: 'I Wanted To Be A Boy'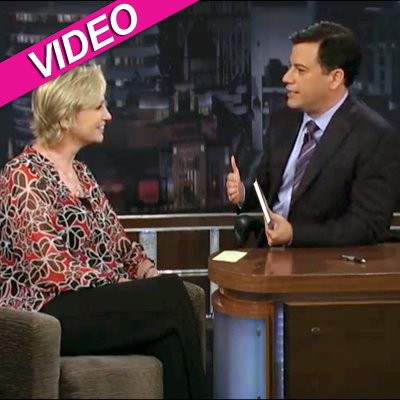 Glee star Jane Lynch, appearing on Jimmy Kimmel Monday, said that when she was growing up, she wanted to be a boy.
Lynch, who plays cheerleading coach Sue Sylvester on Fox's Glee, said her wife Lara Embry helped her work on her new memoir, Happy Accidents. She said among the tidbits her spouse learned about her, was that she wouldn't wear a shirt while riding her bike through the neighborhood -- well into her teens.
Article continues below advertisement
"It happens sometimes," she said. "I wanted to be a boy!"
Matthew Morrison Answers Jonah Hill's Challenge With Glee
Lynch, who hosted the Emmys this year, said she would hide in her father's closet and wear his clothes and "pretend to be drinking a Martini.
"I wanted to be Don Draper -- it was the mid 60s!" she said.
Lynch remembered every Halloween she'd wear a boy-geared outfit, dressing up on different years as a "pirate," a "hobo," and a "ghost who wore a tie.