Matthew Morrison Answers Jonah Hill's Challenge With Glee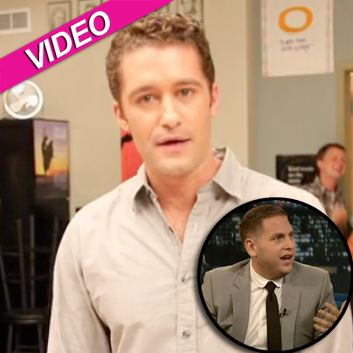 Mr. Schue isn't taking any guff from his students -- or Jonah Hill!
Just days after Moneyball star Jonah Hill told Jimmy Fallon he had a few not-so-nice experiences with the Glee star at a pair of Hollywood events -- warning the TV heartthrob to "bring his s**t" the next time they ran into one another -- Morrison got a chance to respond.
Morrison, appearing on Tuesday in a small clip on Fallon, said: "I heard that Jonah said I should bring my s**t next time. Well, guess what? This is next time!"
Article continues below advertisement
Hill's comment that Morrison couldn't "sing his way out of this one" irked the TV teacher, who barked back in the taped segment, "You think I can't sing my way out of this? I can sing my way out of it and I can dance my way out of it, so pick a date and I will meet you on Late Night with Jimmy Fallon and we will settle this like men!
"Be afraid -- be very afraid, because nobody messes with someone from musical theatre," Morrison deadpanned, sprinkling a tad of goodwill in at the end by telling Hill, "I can't wait to see Moneyball."