Jonah Hill: Matthew Morrison 'Bullied Me!'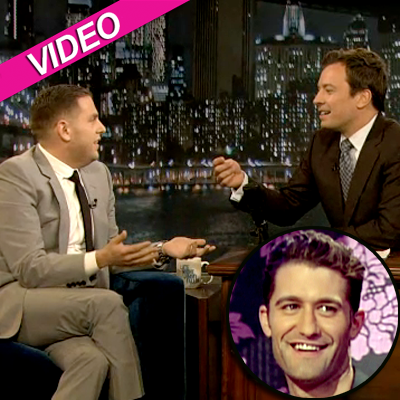 by RadarOnline.com Staff
Maybe Matthew Morrison thinks he really is Mr. Schue shushing one of his kids.
Moneyball star Jonah Hill told Jimmy Fallon that he's had a few incidents with the Glee star, warning Morrison in a tongue-in-cheek manner: "You better bring your sh*t next time, dude!"
Here's how it all went down: Hill said he was at a Fox event in May to promote his upcoming animated comedy Allen Gregory and an event organizer told him to stop talking. That's when Morrison chose to get involved.
Article continues below advertisement
Morrison "piggybacks on this woman calling me out. I've never met this guy before in my entire life. He goes, 'Yeah Jonah, can't you stop talking for one second?' And everyone laughed at me!" Hill said. "I already got it in my head that I don't like this guy. I'm sure he's a good human being, but you don't throw a dude under the bus who's just sitting there being quiet.
"I've never met him before -- he bullied me!"
A few weeks later, Hill was at a Tinseltown bash when he overhead Morrison telling a joke to Gossip Girl star Chace Crawford -- using his name as the punchline.
"I'm the punchline in this guy's joke? What is his deal?" Hill said, firing up. "Yo Matthew Morrison, you better bring your sh*t when I see you next time, dude.
"I called you out on Jimmy Fallon ... I'd like to see him sing his way out of this one!"