Justin Bieber 'Giggled Like Teenage Girl' While In Lock-Up After DUI Arrest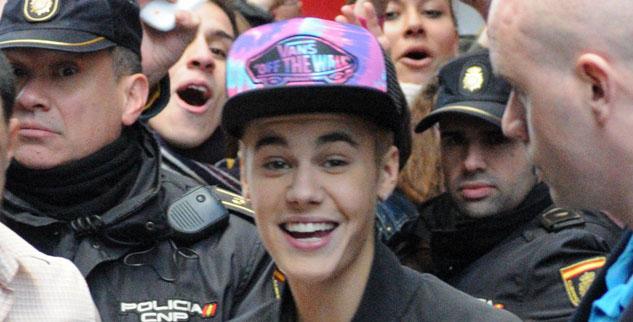 This was no laughing matter, but Justin Bieber found the lighter side of his legal mess whilst in the Miami lock-up, RadarOnline.com has been told.
The drag-racing, self-confessed pill popper was "giggling like a teenage girl" as he awaited the chance to be bonded out by a judge, following his high-speed DUI arrest on Thursday.
A law enforcement source told Radar: "He appeared to still be under the influence and would start to mumble something under his breath, then start laughing. Cops are used to seeing people who are under the influence do all sorts of bizarre things, so this wasn't out of the ordinary, except it was a major celebrity this time."
Article continues below advertisement
Added the insider, "Despite being combative with officers at the scene, when he got to the station to be booked, Justin was polite to cops. He also complained that he was hungry and tired."
Said another source: "Justin just isn't taking this seriously at all. He expects his attorneys to get him out of this mess."
As we reported, Bieber flunked a field sobriety test at the scene of the arrest, admitted to consuming a beer, prescription medication and smoking marijuana all-day to officers.
Police said that tests — including a Breathalyzer examination, in which he blew a relatively low BAC level (.011-.014) — confirmed his prior admission and he was determined to be under the influence of drugs.
The Canadian singer has hired famed Florida attorney Roy Black in a bid to beat his DUI charge — the same man who is best known for gaining an acquittal of William Kennedy Smith on charges of rape and for his representation of conservative radio commentator Rush Limbaugh on charges he misused the prescription painkiller OxyContin.
He'll work with the pop star's Los Angeles based lawyer Howard Weitzman and Miami criminal defense attorney Howard Srebnick.
After posting the $2500 bond, Bieber emerged from the jail, jumped onto the SUV waiting to whisk him away, whilst he waved to fans.
The singer will now head back to Southern California as he has a commitment in the area to attend to.
Bieber could potentially have more legal issues when he touches down in Southern California, as he remains under investigation after a neighbor claimed he egged his property.