Justin Bieber's Bond Set At $2,500 -- Plus 9 New Developments In His DUI Arrest Case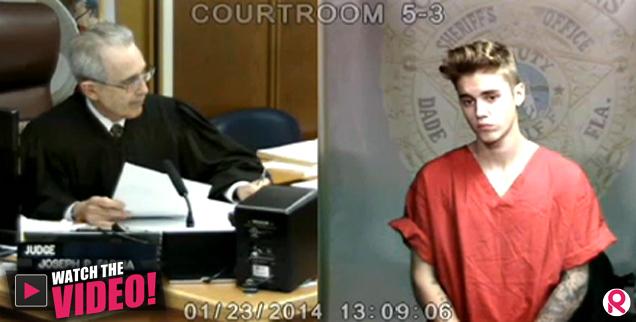 Following Justin Bieber's early morning DUI arrest on Thursday, the Canadian pop star appeared in front of a Miami judge where his bail was set at $2,500, RadarOnline.com is reporting.
"Justin was all ready to bond out," a source told RadarOnline.com.
"The bondsman was there and was prepared to take care of the matter, until he was unexpectedly told that this case has to proceed to a judge. There was a lot of confusion behind the scenes."
Article continues below advertisement
Bieber, 19, looked stoic as he stood in front of the Miami judge — a far cry from his smiling mug shot.
radar_embed service=5min.com src="http://pshared.5min.com/Scripts/PlayerSeed.js?sid=1126&width=570&height=351&playList=518097225&sequential=1&shuffle=0"
The "Baby" singer was arrested on charges of DUI, drag racing, resisting arrest, and driving on an expired license and here are 9 new developments in the ongoing story:
Shotgun Stunner
The passenger in the 19-year-old singer's rented yellow Lamborghini Thursday was model Chantel Jeffries, who probably wasn't too put off by the high rates of speed he was going as, as she's had her own legal issues when it comes to fast cars. As RadarOnline.com uncovered earlier, the Wilhelmina model is just more than two years removed from her own speeding arrest in Dec. 2011, initially being cited for driving at 92 mph, later pleading guilty to a reduced charge of going 79 mph in a 70 mph zone. A social media shot (that was subsequently removed) showed that the gorgeous 21-year old was behind the wheel of the Lamborghini at some point during the evening, though it was Bieber who was driving when police pulled the car over.
Article continues below advertisement
Partner In Crime?
It takes two to tango — and drag race — and Bieber's alleged road rival was Def Jam rapper Crazy Khalil, whose real name is Khalil Amir Sharief, behind the wheel of a red Ferrari looking to burn rubber against the pop star. He was also arrested on DUI and drag racing charges Thursday, and in a tweet he might wish he could take back, Khalil wrote late Wednesday, "Miami nights ridin thru yo city in that hot wheel," with a pic of a Ferrari steering wheel.
Go Greased Lightning
The singer was going about 55-60 mph in a 30 mph zone behind the wheel of a rented yellow Lamborghini, police said, adding it took arresting officers awhile to catch up with the suspects, eventually pulling them over at Pine Tree Drive and 26th Street. They found that a band of the singer's hangers-on — and another surprise cameo we'll get to later on — had held to block off the intersection to set up a drag strip for the fast-living showman.
Article continues below advertisement
Yup, I Did It
Bieber, who flunked a field sobriety test at the scene of the arrest, admitted to consuming a beer, prescription medication and smoking marijuana all-day to officers, Miami Beach Police Chief Raymond Martinez confirmed at a news conference. Police said that tests — including a Breathalyzer examination, in which he blew a relatively low BAC level (.011-.014) — confirmed his prior admission, and he was determined to be under the influence of drugs.
Father Knows Best?
According to online reports, Bieber's 38-year-old father Jeremy seems to have a place at the table with other enabling stage parents, as he assisted in the impromptu drag race fleet set up to pave the thwarted race. He was also with Justin the entire day, including the nightclub outing, when the singer was admittedly getting high non-stop on marijuana.
(Explicit Version)
The singer didn't do himself any favors in his initial exchange with Officer Fulgencio Medina, repeatedly lambasting the lawman (who eventually arrested him) with a profane string of indignant questions both before and after his arrest. At various points in his pow-wow with the police officer, Bieber asked questions along the line of "Why did you stop me? … Why the f*ck are you doing this? … What the fu*k did I do? … Why did you stop me? … Why do you have to search me? … What the f*ck is this all about?" As the officer took him into custody, grabbing his right hand to cuff him, Bieber resisted, asking him, "What the f*ck are you doing?"
Article continues below advertisement
You Had To Ask?
The smartphone era didn't let us down Thursday, as one ardent fan of the singer managed to record the exchange between Bieber and police from across the street, post it on her Instagram account, then take it down. The user, under the handle samanthurx74, was parked across the street as she taped the run-in between police and the pop star trailing the singer. In the clip, one of the fans can be heard shouting wildly, "Justin just got pulled over, Justin just got pulled over!"
Face The Music
Here's what the "Girlfriend" singer will be facing, according to Florida law, if he's found guilty of a first-time DUI: Up to six months in jail, fines ranging from $250 to $500, and as many as 50 hours of community service. Offenders under the age of 21 — Bieber is 19 — are subject to a mandatory six-month suspension of driving privileges. As far as the drag racing charges are concerned, a first time offender faces up to six months in jail, a fines ranging from $500 to $1,000, and suspension of one's license for a year.
Article continues below advertisement
Wild Wild Weeks
When it rains, it pours, for the Biebs and his crew, who seem to do damage in week-long stretches. In Miami, the singer's antics included a $75,000 night out at the strip club King of Diamonds, a one-off jaunt to Cuba, and reportedly, the cooperation of some police in Opa-Locka, Fla., who gave him a detail, leading to the officers involved to be released from duty with pay. Stints in Australia late last year and Europe during the spring produced similar strings of shenanigans, with aroad-weary Biebs memorably letting off some steam on a paparazzo in London.