Justin Bieber Goes Gangster On Pap! Tries To Fight While Dropping The F-Bomb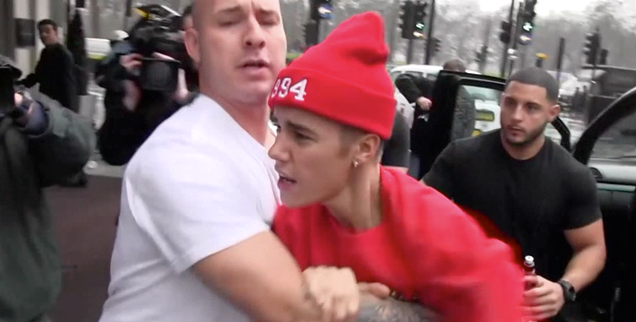 Justin Bieber's wild European adventure continues.
The morning after he collapsed onstage during his show at London's O2 Arena and was rushed to the hospital, the 19-year-old Baby singer went nuts on a paparazzo hanging outside his London hotel after the shutterbug got mouthy with his muscle and RadarOnline.com has the shocking profanity laced video.
Here's how it all went down: The pap was trying to get a shot of the Canadian singer as he left his hotel, and claimed he was knocked around in the stampede rush of people surrounding the mega-star.
Article continues below advertisement
While Bieber rushed into his SUV flanked by two burly bodyguards, when the pap began cursing at the men, saying they should "f**k off back to America," then calling the singer a "f**king little moron."
At that point, a raging Bieber leapt out of the vehicle and returned verbal fire with the cameraman, asking, "What the f**k you say?"
"You heard what I said," the pap said. "You heard what I f**king said, mate."
Bieber shot back, "I'll f**king beat the f**k out of you," and threw a wild punch the air.
"F**k you little c**k," the photog responded.
Bieber tweeted about the run-in, writing: "Ahhhhh! Rough morning. Trying to feel better for this show tonight but let the paps get the best of me," and "Sometimes when people r shoving cameras in your face all day and yelling the worst thing possible at u...well I'm human. Rough week."