Justin Bieber Goes On Twitter Rant Against Haters: 'I'm Only Judged By One Power, And I Serve Him'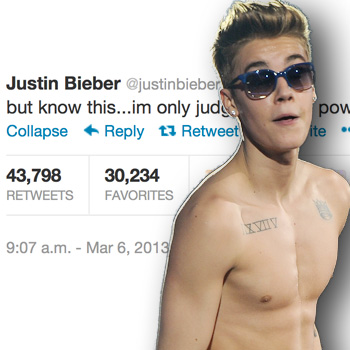 Justin Bieber doesn't care about all the backlash he is getting, because God loves him!
The 19-year-old pop phenomenon lashed out against his haters on Wednesday, taking to his Twitter to defend himself against the recent slew of bad press and outraged fans he has amassed over his bad behavior in London – and RadarOnline.com has the details.
Bieber, who threw a fit over the weekend because his 14-year-old pal Jaden Smith wasn't allowed in his birthday party at a London nightclub and then was booed by fans Monday night when he arrived two hours late for his O2 arena show, defended himself in a series of shorthand tweets.
Article continues below advertisement
"rumors rumors and more rumors. nothing more nothing less. might talk about them 1 day. rt now im just gonna be positive. cant bring me down im focused on the good things in life. im blessed and not forgetting it. im giving back every day for it. cant phase me," Bieber tweeted.
"fake stories to sell papers i guess are part of the job. but im a good person. i know that. u cant tell me different. we know the truth as long as my family, friends, and fans r with me u can say whatever. we are all equal in God's eyes & we have a responsibility to eachother so make up stories about fake fines and make no mention of the positive…." he continued.
Bieber, who has recently been linked to aspiring British singer Ella Paige Roberts Clarke, the 17-year-old beauty who has been by his side overseas, does not see anything wrong with his behavior.
"or say when i came out of my show with my shirt off because after performing for 2 hours i might be sweaty i was going into a club (really?) or any girl i stand next to is my girl or that i dont care, or that i dont feel, or that a 19 year old going to a club in europe is wild… i understand it is part of the job to be judged…but judge me on the facts, judge me on the music, and be careful of the judgement sic u pass," he spat.
Article continues below advertisement
And in the end, the only person whose opinion he cares about is the "power" above.
"but know this…im only judged by one power, and i serve him so yeah I will continue being me," he preached. "i will continue to serve, to perform, to care, to love, to smile, to dance, to play, to sing… and u are welcome to join, because i carry no hate. We got to much love for that. Im about the music. Gonna enjoy the day and keep smiling. so should all of u. Much love. i see u #beliebers = i love u."
What do you think about Bieber's latest Twitter rant? Sound off below!