Exclusive
The Moment Justin Bieber Was Escorted Out Of Birthday Bash, Exclusive Photo!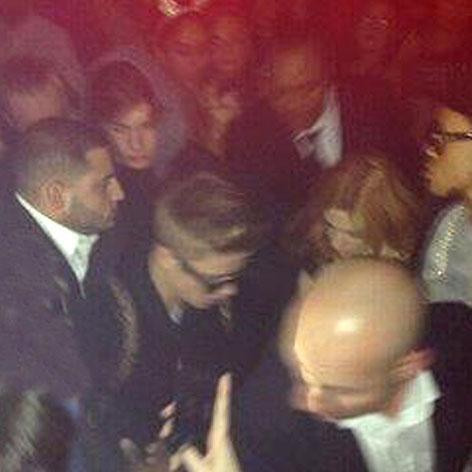 Justin Bieber's "worst" birthday was caused by a 14 year-old!
As RadarOnline.com previously reported, the pop singer left his own birthday celebration in London early Saturday morning less than an hour after arriving at Cirque du Soir where a circus-themed party was scheduled.
It was Biebs' young pal, Jaden Smith, 14, who threw things out of wack. He showed up shortly after the rest of the gang and club security wouldn't let Jada Pinkett and Will Smith's Karate Kid star in because of his age.
Article continues below advertisement
But Bieber is nothing if not a loyal pal. Rather than continuing with the party without Jaden, he and the rest of his entourage all left. They were escorted by security out the door and right to their convoy of cars.
Then it was off to McDonald's for a more teen-friendly meal before returning to Justin's hotel at 3 am.