Arresting Cop: Justin Bieber Had 'Bloodshot' Eyes, Ranted 'What The F*ck Did I Do… Why The F*ck Are You Doing This?'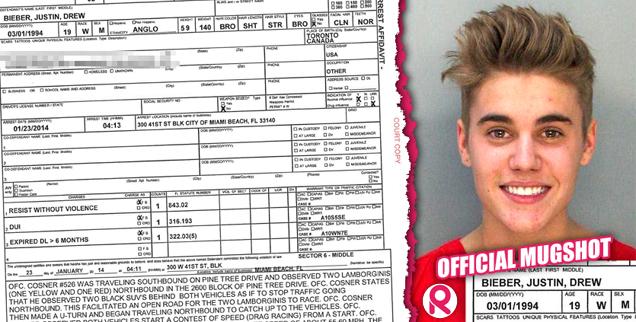 Justin Bieber's bad boy behavior bubbled to the surface during his arrest on DUI and drag racing charges in Miami Beach early Thursday, where police said he acted "belligerent," refused to cooperate in multiple instances and repeatedly asked profanity-laced questions as to why he was being detained.
RadarOnline.com has full details of his arrest, as well as his mug shot.
An arrest affidavit penned by Officer Fulgencio Medina, the police officer who took Bieber into custody, illustrates the star's out-of-control behavior, and above-the-law attitude, at its' worst.
Article continues below advertisement
As we previously reported, Miami Beach Police Chief Raymond Martinez said that arresting officers had a tough time catching up to Bieber and his entourage in the first place, due to their high rate of speed. The police officer said in the affidavit that after he initially pulled over the pop star — and immediately caught a whiff of booze coming from the Lamborghini — Bieber asked him, "Why did you stop me?"
DOCUMENT: Read The Miami Police Department's Report
Medina noted that in addition to bloodshot eyes, Bieber made "slow deliberate movements" and appeared to be in a stupor — "all indicators of an impaired driver," he wrote.
Medina said that when he asked Bieber to exit the car, the singer asked him, "Why the f*ck are you doing this?"
Bieber resisted taking his hands out of his pockets, the police officer said, leading him to order the pop star to cease what he was doing for both of their safety. The officer said that when he began patting the "Baby" singer down, Bieber told him, "I got no f*cking weapons," and asked "What the fu*k did I do?
Article continues below advertisement
"Why did you stop me? Why do you have to search me? What the f*ck is this all about?"
radar_embed service=5min.com src="http://pshared.5min.com/Scripts/PlayerSeed.js?sid=1126&width=570&height=351&playList=518097024&sequential=1&shuffle=0"
Medina said he repeatedly commanded Bieber to keep his hands on the vehicle, cautioning him that he would be arrested if he didn't comply — Bieber didn't comply, turning around to face the officer, at which point Medina placed him under arrest. When the officer grabbed the singer's right hand to handcuff him, Bieber resisted and asked him, "What the f*ck are you doing?"
During the ride to the holding facility, Medina said Bieber grilled the officers on why he was arrested, at which point they told him that his physical indicators — a flushed face, bloodshot eyes and alcohol on his breath — led them to believe he was intoxicated while driving.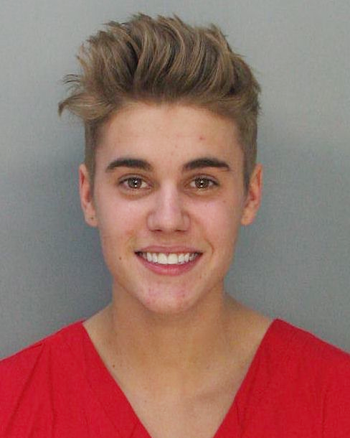 One potential positive for Bieber out of the subsequent tests performed, was that his BAC (blood-alcohol content) was between .011-.014, putting him on the right side of the law. Florida DUI standards dictate that those under the age of 21 are considered to be driving under the influence if their BAC is .02 or above., which Bieber was not. (It can only take about one drink to register this type of result.)
Article continues below advertisement
Should Bieber found to be guilty of DUI, he faces a maximum of six months in jail, fines between $250 and $500, and as many as 50 hours of community service he'll have to serve.
As we previously reported, the 19-year-old singer was charged with DUI, drag racing, resisting arrest, and driving on an expired license following the early morning incident, and is slated to be booked into the Miami-Dade County Jail later Thursday. Crazy Khalil, the rapper he was driving alongside, also arrested in connection with DUI and drag racing.
The AP had tried to contact Bieber's rep Melissa Victor in connection with the incident, but hadn't heard back early Thursday.
Stay with RadarOnline.com for more updates on this story.