Exclusive
Justin Bieber's Advisors Tell Him To Stay Away From Selena Gomez Because She 'Is A Bad Influence'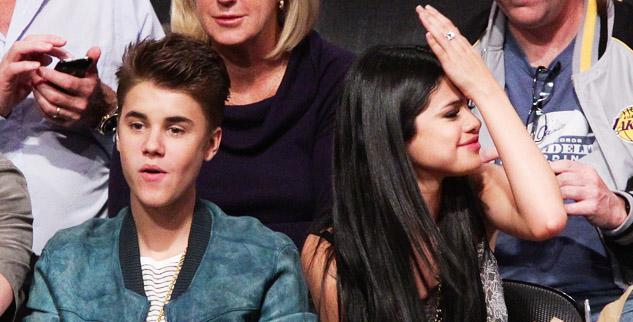 We thought it was the other way around!
Justin Bieber's closest confidantes, including manager Scooter Braun, have advised the pop star to steer clear of his on-and-off-again girlfriend, Selena Gomez, because the ex-Disney starlet is a "bad influence," RadarOnline.com has exclusively learned.
"The message has been sent," a source close to the situation revealed.
"There is always so much — ridiculous — drama involving both of them. They fight constantly and Selena loves to keep Justin hanging. He always acts out after they fight. Selena is just not good for Justin. They need to stay away from each other."
Article continues below advertisement
However, after Bieber's arrest in the early morning hours of Thursday in Miami for a DUI, drag racing, resisting arrest and driving on an expired license -- the warning seems odd.
Bieber, 19, was released in the afternoon after posting $2,500 bail and was later photographed with his father, Jeremy Bieber, in a Miami Beach venue surrounded by bottles.
While Bieber got in trouble sans Gomez, just how toxic the pair can be together was laid bare in the explosive text messages obtained by RadarOnline.com during which Gomez, 21, told Bieber he was "a drug addict" who needs to "go to rehab!"
RadarOnline.com verified the messages were real and were forwarded by a cellphone registered to Gomez's stepfather, Brian Teefey, to one of her friends, who provided them to this website.
During the bitter exchange, which also included X-rated nude photos, Bieber wrote to his lover since 2010: "F*CK YOU!!!!! I need to grow up?! HA ok! Enjoy life with OUT ME B*TCH!!! F*ck you. F*ck Scooter. F*ck all y'all. IAM DONE!"
MORE ON:
Celebrity Justice
Article continues below advertisement
Gomez responded, "Good!!! Go 'retire' or whatever bullish*t attention ur trying to get."
He texted back, "Can't hear you over my cash, babe! You're only famous cuz of me. You know it. I know. Everybody knows. Bye. … Go f**k someone else. Keep that talentless p***y away from me!"
In the wake of his most recent controversy, RadarOnline.com has learned Bieber's camp reminded the pop star that Gomez was at his Calabasas, Calif., mansion on the night he allegedly hurled eggs at a neighbor's property, causing more than $20,000 in damage.
"Justin also does really stupid stuff to try and impress Selena. Frustratingly for his advisors, he gets so much negative press, but Selena never does. If Justin were to cut off all communication with Selena, he would be in a much better place."
Said another insider, "Most of Justin's team think she has generally positive influence on him because she has her act together… (but) he does act out a lot more often than (not) when he deals with her."