Justin Bieber Groupie Says Pop Star Was 'Marvelous & Unforgettable' In Bed, Denies She's Transsexual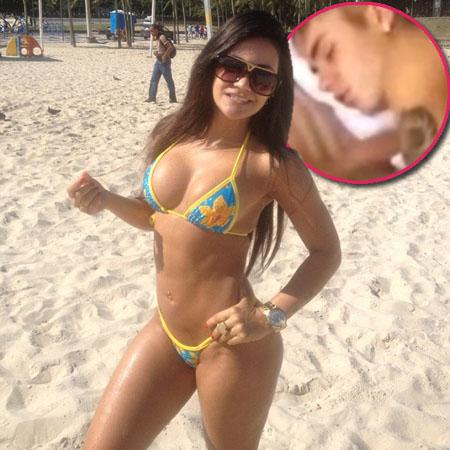 The bodybuilding model who taped a sleeping Justin Bieber last week, now admits she and the "Baby" singer had "marvelous and unforgettable" sex -- twice! -- adding that the singer is both "well-endowed and very good in bed.
"Take it from me," Tati Neves, 27, told the UK Sun. "He has quite a fit body and looked great naked."
Neves, in the interview, denied reports coming out of her native Brazil that she's Transsexual, as she's actually separated and has a 5-year-old daughter named Sophia.
Article continues below advertisement
She said the sexual encounter with the Canadian crooner at his rented mansion marked "one of the best moments in my life.
"A man must know what to do to make me happy -- Justin did all that and more."
She said that the ecstasy was mutual, as the 19-year-old wound up calling her the very next day, hoping for another encounter, though she declined, as she was physically exhausted from their encounter the night before.
Neves also divulged more on how the clip of Bieber in bed wound up online, placing the blame on a (former?) friend.
"It wasn't me that posted the video," she said. "I was still in bed with Justin when my friend texted me to say, 'Oi amiga, where are you?'… I texted back, 'I'm here in bed cuddling up to Justin Bieber.'
"The video was just for her eyes only. I am really angry with her."
As we previously reported, the pop star's tour has been riddled with controversy as of late, including a reported run-in at a brothel; an abrupt ending to a show after he was pelted with an object from the audience; and an immature outburst aimed at local paps.