That'll Show Em! Justin Bieber Introduces Paps To The Back End Of His Car Door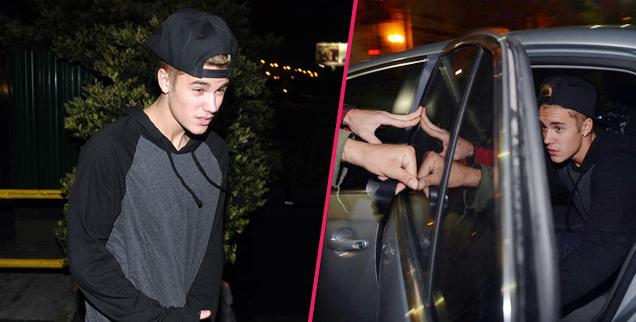 Justin Bieber's South American tour continued to be a comedy of errors Thursday, as the impertinent imp lashed out at photographers in Buenos Aires, Argentina, pushing his car door open to smash them as they jostled for shots while he left a local sushi joint.
The 19-year-old star later mellowed out and waved to his screaming fans from the balcony of his lush hotel, the Faena.
The Canadian crooner earlier Thursday spoke with authorities, after his fans got rowdy waiting outside the hotel, knocking over barriers.
Article continues below advertisement
As we previously reported, the pop star's tour has been riddled with controversy as of late, including a reported run-in at a brothel; an abrupt ending to a show after he was pelted with an object from the audience; and a covert clip of him sleeping, taken by a giggling groupie, which went viral.