He's At It Again! Justin Bieber Carried Around By Bodyguards At Usher's Bday Bash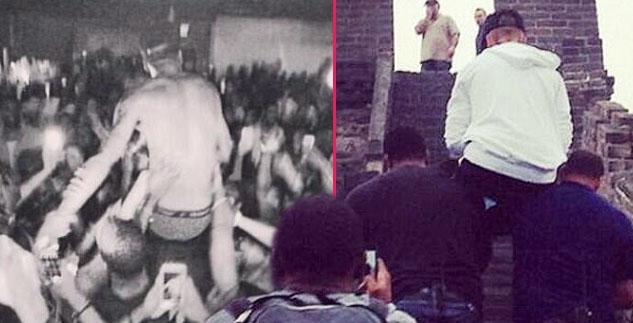 All hail Lord Bieber? Justin Bieber clearly wants people to think highly of him, literally, because he's beginning to make a habit of forcing his bodyguards to carry him around on their shoulders. After doing just that at the Great Wall of China last month, Bieber got a lift again at Usher's birthday party inside L.A. nightclub Bootsy Bellows on Monday, October 14.
The surprise party was packed with A-list guests, including Diddy, Jermaine Dupri, Miguel, Sugar Ray Leonard, and the birthday boy himself. But Justin clearly wanted to feel above it all, even removing his shirt for the ride on his pals' shoulders.
Article continues below advertisement
Do you think it's just a case of a kid being a kid, or is 20-year-old Bieber out of control? Let us know in the comments!