The Spit Hits The Fan: Beliebers Upset Over Pics Of Justin Bieber Spitting On Fans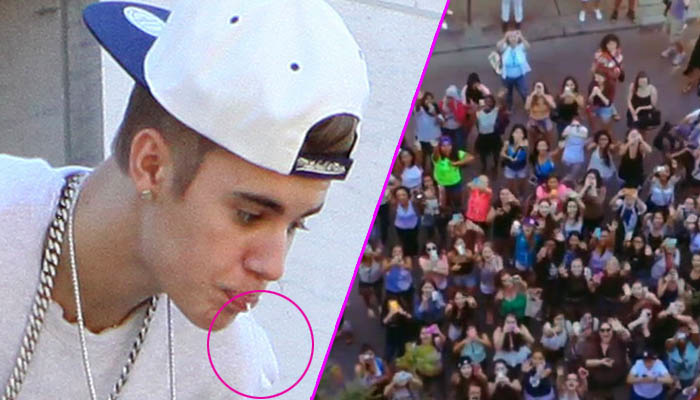 Forget dancing and singing. Lately, Justin Bieber has been hocking loogies like it's his job.
The 19-year-old is currently facing a lawsuit from an Ohio deejay, Addison Ulhaq, who says Bieber spit in his face during a confrontation at a nightclub and he's also been accused of spitting on a neighbor and spitting in a woman's cup at a hotel gym.
Now he's making his fans the target of his slime: Justin was spotted spitting from his balcony at Toronto's Hazelton Hotel while dozens of fans cheered below.
Article continues below advertisement
While no one can confirm if the spit actually came near the fans, Beliebers took to Twitter to express their disgust.
Check out some of the posts:
Wait Justin bieber spit on a belieber that kinda just draws the line

— violet (@violetdisimone) July 26, 2013
justin says he loves his beliebers but proceeds to spit on them from a balcony? i used to be a big belieber but i he's lost all my respect.

— ♔ (@ihrrystyles) July 26, 2013
I'm a belieber but what Justin did was disgusting. You don't spit on your fans. Even if they're begging you to do it you shouldn't it's sick

— ♡ janoskians ♡ (@weyheybiebsgirl) July 26, 2013
what happened to the old justin the one that cared about his fans not thr fame and the money the old justin would NEVER spit on his fans :(

— his belieber ✌ (@_his_belieber_) July 26, 2013
However, even more of his fans defended his behavior -- even said they wished they'd been the target!
@neversh0utemma Justin didn't spit on his fans..... But i would just say "thank you" if he spitted at me haha i would even pay him for it

— Simone Thoegersen❤ (@Simone_Belieber) July 26, 2013
OK. IF JUSTIN SPAT ON ME I WOULD BE HONORED AND KEEP THAT SPIT FOR FOREVER. I WOULDNT CALL IT "disrespectful" i think every belieber (c)

— justin (@3012withbieber) July 26, 2013
Yes. The Belieber I just interviewed, when asked abt his spitting habit, said 'I wouldn't mind being spit on by him bc it's like holy water'

— Jackie Crandles (@jcrandles_cp24) July 26, 2013
Beliebers @JustinBieber s Spit is the holiest spit, big deal he spitted on the ground, lol, he is human, flw Belieber @ellenKharlanov

— Beatrice Salihova (@BeatSalihova) July 26, 2013
@justinbieber plz spit on me I'm your biggest fan belieber❤❤❤

— 12 DAYS (@nouislushee) July 26, 2013
This is just the latest incident in in a string of bad Bieber behavior this this summer. He's currently in Toronto for for the Believe Tour.
Was his spitting disgusting or no big deal? Let us know in the comments...