Chef Mario Batali Says He Would Have 'Brutally' Beat Up Justin Bieber For 'Drunk And Stupid' Peeing Incident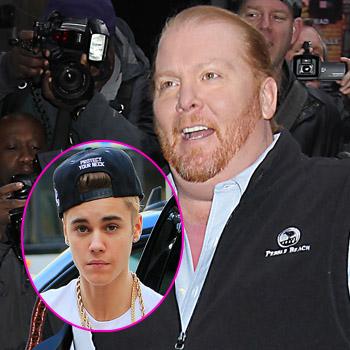 Justin Bieber better watch his back next time he goes out to eat in New York.
After footage of Justin peeing in the mop bucket of an NYC kitchen surfaced earlier this month, chef Anthony Bourdain spoke out to slam his behavior, saying, "The chef should have put his foot up this young punk's a**." -- and now famed NYC chef and Gwyneth Paltrow BFF Mario Batali says he'd do just that.
"I would have brutally kicked his a**," Batali told Piers Morgan during an episode of CNN's Piers Morgan Live that airs Thursday night.
Article continues below advertisement
"I mean, that's not just being funny and flip that's actually peeing on somebody's workplace," he explained.
"That's odd, that's weird, that's just…I mean, I think he just needs a wakeup call. I don't think he's an evil kid. He was drunk and stupid."
However, Justin's grandmother defended his behavior earlier this week as RadarOnline.com reported, saying, "Anybody else's kids have done the same thing!"