Justin Bieber's Grandma Defends His Bad Behavior: 'Anybody Else's Kids Have Done the Same Thing!'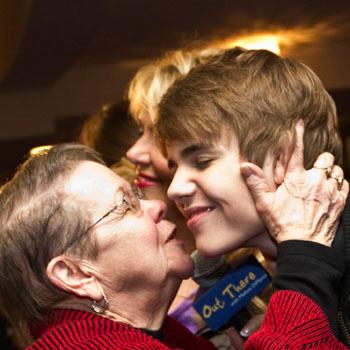 Peeing in buckets, spitting on innocent bystanders and cursing out Bill Clinton are all just normal teen behavior, according to Justin Bieber's grandma.
Diane Dale gave an interview to Ottawa's CTV on Tuesday in defense of her 19-year-old grandson, after his behavior in recent weeks has drawn criticism.
"It's totally crazy," Dale, the mother of Bieber's mom, Pattie Mallette, said. "I feel sorry for Justin all the time, because paparazzi pick on him all the time." Justin reportedly assaulted a pap back in 2012, but the photog had no visible injuries.
Article continues below advertisement
As for his other antics, she insisted: "Anybody else's kids have done the same thing but nobody says anything. He's a 19-year-old boy. And before you criticize him, say, 'What is my 19-year-old boy doing?"
Despite all the haters, Dale says that Justin is the same sweet little Canadian she helped raise. She tweeted recently, "'Well the kid hasn't changed much' is one of the biggest compliments we have received."