Exclusive
Justin Bieber Paparazzo Assault Accuser Had 'No Visible Injuries'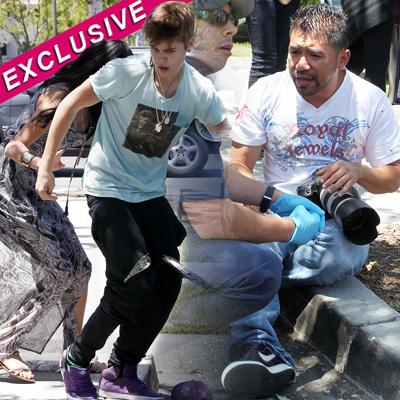 RadarOnline.com Assistant Managing Editor
The photographer who claims Justin Bieber assaulted him last weekend had no visible injuries and his trip to the emergency room was "unremarkable," a law enforcement source tells RadarOnline.com exclusively.
Bieber and his girlfriend, Selena Gomez were in Calabasas last Sunday when he got into a scuffle with a paparazzo. Words were exchanged and the photographer claims the Baby singer hit him. The pap called 911, filed a report with the police and went to the hospital to be checked out. The Los Angeles County Sheriff's Department is investigating the matter as misdemeanor battery. Investigators want to talk to both of the teen idols about the incident.
Article continues below advertisement
"The photographer had no visible injuries and he didn't require any further medical attention when he went to the emergency room. The injuries that the photographer claims to have are rather unremarkable," a law enforcement source tells RadarOnline.com exclusively.
"The case hasn't been referred to the Los Angeles County District Attorney's office because the investigation is only just beginning. The only statement that has been given is from the alleged victim and other eyewitnesses, including Mr. Bieber's girlfriend, Selena Gomez, need to be interviewed. At some point very soon, I anticipate that detectives will formally reach out to Justin Bieber for a request for an interview, although he isn't under any obligation to do so and neither is his girlfriend," Sergeant Michael Holland, lead detective at the Malibu/Lost Hills station previously told RadarOnline.com.
Eyewitnesses at the scene have claimed that the photographer provoked Bieber into the alleged attack.
"Justin's car was being blocked in and he had to get out of his vehicle to ask him to move so he could leave," a source told RadarOnline.com. "It was absolutely instigated by the photographer and could have been avoided entirely if he hadn't been physically blocking Justin from leaving the parking lot. Justin wasn't looking for trouble, it's just not who he is."