Justin Bieber Works Out On Punching Bag With Mike Tyson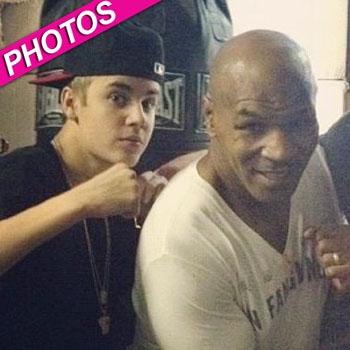 If this music thing doesn't work out, Justin Bieber may have a new career as a boxer!
When he was in Las Vegas last week for the Billboard Music Awards, the Biebs stopped in to see local resident Mike Tyson.
Out came a punching bag, the singer put on the gloves, and went at it! With Tyson holding the bag steady and shouting encouragement, Bieber pounded away.
Ironically, it was just days later that Bieber got into a dispute with a photographer who was taking pictures of Justin and girlfriend Selena Gomez.
Article continues below advertisement
Words were exchanged, and the photographer claims Bieber hit him. He called 911, filed a report with the police, and went to the hospital to be checked out. The Los Angeles County Sheriff's Department has confirmed they're investigating the incident as a misdemeanor battery case.
Whatever happened, Justin was clearly angry, and as photos taken by other paparazzi show, Selena took him by the arm, settled him down, and then helped him find his hat and one of his shoes that had gone flying.
MORE ON:
Celebrity Justice
"gonna focus on the important stuff. the music," Bieber later tweeted.