2012 Billboard Music Awards: Adele, Justin Bieber, Katy Perry & Taylor Swift All Big Winners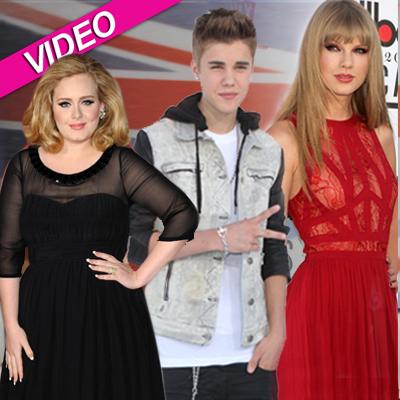 Adele, Justin Bieber, Katy Perry, Taylor Swift were among the big winners in Las Vegas Sunday at the Billboard Music Awards, as the chart-toppers all collected major awards during the three-hour show hosted by Modern Family's Julie Bowen and Ty Burrell.
Adele was not in the house, but the British Grammy-winner singer dominated to the tune of a dozen awards on the evening, including top artist, top female artist and top album for her 21.
Article continues below advertisement
Bieber, in winning the Top Social Artist award, said "I just want to say how much of a blessing it's been, the past three or four years, growing up in front of everybody.
"I want to thank all my fans, because the Internet is where I got my start, and all my fans have helped me get to this position."
For a full list of winners, click here
Perry collected the Spotlight Award after racking up five No. 1 hits from the same album, a feat not accomplished since Michael Jackson.
"I always say that the people have the power," the gorgeous singer said, "so I want to say thank you to the glittering, gorgeous community of fans out there."
Swift, no stranger to award show success, went home with the Billboard Woman of the Year award.
She told her fans, "I just love you so much, I'm just so humbled and honored by this."
Watch the video on RadarOnline.com
The show also included performances from artists including Kelly Clarkson, Bieber protege Carly Rae Jepsen, Usher, Carrie Underwood, Linkin Park and Nelly Furtado; and tributes to recently-passed musical stars such as Whitney Houston, Robin Gibb, Donna Summer and Beastie Boy Adam Yauch.