Exclusive
WATCH: Whitney Houston's Daughter Bobbi Kristina Caught Smoking Pot Out Of A Bong!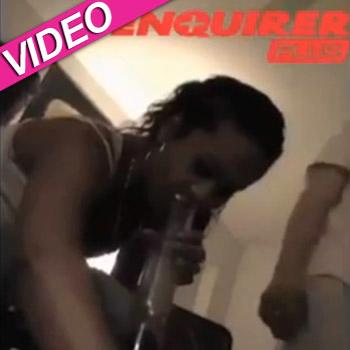 Article continues below advertisement
Whitney's 19-year-old daughter was partying with friends who attend college in Statesboro, Georgia in March 2011 and in the disturbing video her knowledgeable use of the bong is evident.
In the video, Bobbi Kristina says: "Give me the lighter," and then lights the bong, and after taking a long hit and coughing she takes another one!
"Bobbi Kristina was staying with friends at the school and she brought along a big bag of pot for the party," a source at the party said about the night.
"The party was well underway by the time I got there around 11 p.m. When I left at 6am the next day, she was still partying hard."
The source said Bobbi Kristina looked like she knew exactly what she was doing.
"Between tokes, Bobbi was drinking shots of Grey Goose and Skyy Blue vodka, and sipping a mixed vodka drink.
Watch the video on RadarOnline.com
"She's obviously a seasoned partier. With the amount of pot and alcohol she was using, I would have passed out, but she was still going strong," the source said.
Article continues below advertisement
As RadarOnline.com previously reported, Bobbi Kristina was hospitalized twice in twelve hours after her mother died and friends and family members are very concerned about her future.
"Everyone is worried sick about Krissy ... her aunt Pat got a number of her friends and family to come to Atlanta and have a serious talk with her about her sobriety," a source said. "There were lots of tears, but Bobbi Kristina didn't listen."