Exclusive
Whitney Houston's Daughter Bobbi Kristina Appeared 'Wasted' At Burial On Sunday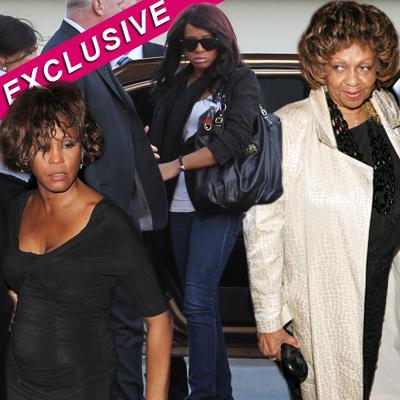 Article continues below advertisement
Bobbi Kristina almost didn't make it to her mother's burial on Sunday, according to our source.
"Bobbi Kristina didn't want to be at the burial, and she looked wasted," a source close to the situation tells RadarOnline.com. "Krissy's eyes were glassy, and she seemed to be very disconnected from the service. Krissy hasn't been eating or sleeping and just can't stand to be around her family right now. Krissy's group of friends appear to be much older, and don't seem to have her best interests at heart."
In the hours after Whitney tragically passed away, Bobbi Kristina was hospitalized just after midnight following the news of her mother's death; this was BEFORE she was rushed to Cedars-Sinai Medical Center for a SECOND time the following day.
Meanwhile, Bobby Brown is also growing increasingly concerned for his only child with Houston, and wants his daughter to go to rehab. "Krissy has taken her mother's death really hard, not surprisingly, and Bobby is terrified she's going to do something stupid. He wants her in a treatment center, getting professional help to get her through the grieving process without falling back on alcohol or drugs to mask her pain," an insider says.
Article continues below advertisement
"The true cause for concern is that the Houstons feel absolutely powerless to do anything about Krissy because she is an adult and they are afraid to push her too hard for fear of driving her away," the insider says. "Krissy's Aunt Pat (Whitney's sister-in-law), who spoke at the service on Saturday, is truly frightened of the toll all of this is going to take on Cissy, who is also taking her daughter's death extremely hard. Pat seems to be the only one who isn't afraid to get in Krissy's face and physically haul her to rehab, but they know if they take her unwillingly, she will bolt."