Exclusive
Bobby Brown 'Worried' About Bobbi Kristina; Wants Her To Go To Rehab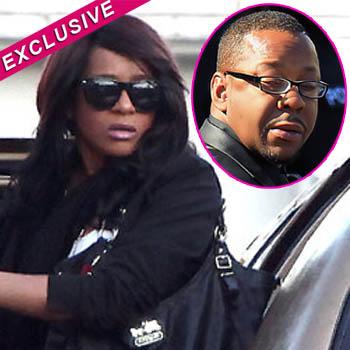 Article continues below advertisement
"Krissy has taken her mother's death really hard, not surprisingly, and Bobby is terrified she's going to do something stupid. He wants her in a treatment center, getting professional help to get her through the grieving process without falling back on alcohol or drugs to mask her pain."
As RadarOnline.com previously reported, the 18-year-old disappeared and was reportedly getting high after her mother's emotional nearly four hour funeral service Saturday, and this is another incident that is troubling to her dad.
"Bobby wants to be there to help his daughter, to guide her through this time, but with all of the family bad blood and drama he isn't able to comfort her or really give her any help at all. He is telling people that he is worried sick that his daughter is going to turn to drugs.
"Let's face it, both her parents struggled with dependency issues and Bobby knows that addiction often runs in the genes so he's terrified his daughter is going to follow in his and Whitney's footsteps — he wants to stop that by all means possible."
Article continues below advertisement
The one thing that Bobby wants his daughter to do is try and get professional help. "Bobby would like to see Bobbi Kristina go to rehab now before things get really bad for her," the source said.
Even though he stormed out of Whitney's funeral and was prevented from comforting his daughter, Bobby still wants to do everything he can to help her.
"He is telling people that she doesn't know how to help herself right now and he thinks she isn't going to do the right things and no one around her is going to stop her," the source tells RadarOnline.com.
As RadarOnline.com exclusively reported, Bobbi Kristina was hospitalized just after midnight following the news of her mother's death — this was BEFORE she was rushed to Cedars-Sinai Medical Center for a SECOND time the following day.
"She tried to ease the pain of losing her mother by having a few alcoholic drinks," an insider explained. "She was distraught, on the verge of a complete breakdown. Not knowing what to do, members of her mother's entourage tried to calm her down with a sedative. The two were an unfortunate mix and she ended up passing out."
Article continues below advertisement
This is exactly the kind of behavior that has Bobby concerned. "Bobby is worried that with his and Whitney's past history of substance abuse that their daughter is really going to struggle herself now that her life is falling apart.
"He's worried that the people around her are not going to be able to help her, or stop her, so he wants her to get professional help as soon as possible so she doesn't continue doing harmful things."